Altova公司SchemaAgent®2013是一個有遠見的工具,用於分析和管理之間的關係基於XML的文件 - 在一個項目中,企業內部網,甚至是企業。SchemaAgent給你一個準確的圖片在幾秒鐘內你的XML基礎設施,給你的知識,你需要有效地管理,編輯和重用組件在高效,無差錯的方式。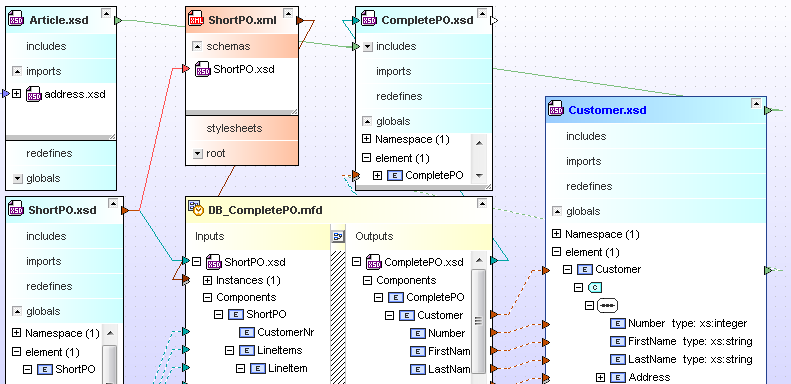 Altova SchemaAgent® 2013 is a visionary tool for analyzing and managing relationships among XML-based files - across a project, an intranet, or even an enterprise. SchemaAgent gives you an accurate picture of your XML infrastructure in a matter of seconds, giving you the knowledge you need to efficiently manage, edit, and reuse components in a productive, error-free manner.
 
XML Schema Management
SchemaAgent uses graphical components and color-coded lines to present you with a visual representation of your XML information architecture. This allows you to quickly ascertain the relationships that exist between associated schemas, as well as the various components and data types that exist within each schema. It's easy to modify connections and create new relationships using simple drag and drop functionality.
 
WSDL File Management
When you drag a WSDL file from the SchemaAgent explorer pane onto the design pane, SchemaAgent represents it as a graphical component with details about imported WSDL and XML Schema files, inline schemas, namespaces, and definitions contained in the WSDL document. These relationships can be managed easily within SchemaAgent with changes automatically propagated to impacted files.
 
XSLT File Management
By viewing relationships between XSLT stylesheets and other files in the SchemaAgent graphical design view, you're able to immediately understand how any changes you make will impact related files. In addition, because SchemaAgent allows you to create and change relationships between files graphically, you can easily reuse existing components and reduce redundant development efforts.
 
MapForce Integration
When XML Schemas are utilized as the source and/or target of a MapForce data mapping project, SchemaAgent displays the mapped nodes used in each schema. Related XML instance and WSDL files are also displayed, presenting you with a complete, accurate representation of how XML assets are used and linked throughout your organization.
 
ALTOVA Products
原廠網址:www.altova.com