Altova公司FlowForce®Server Beta版的設計自動化專用服務器,虛擬機,或為您的項目的範圍擴展的工作站的生產率數據的轉換和其他任務的執行上。一個直觀的Web界面,可以讓你定義一個靈活的時間表所引發的新的輸入文件或檢測的多步驟的工作。FlowForce Server可以讓您高效地自動化和管理當今複雜的企業級數據集成任務。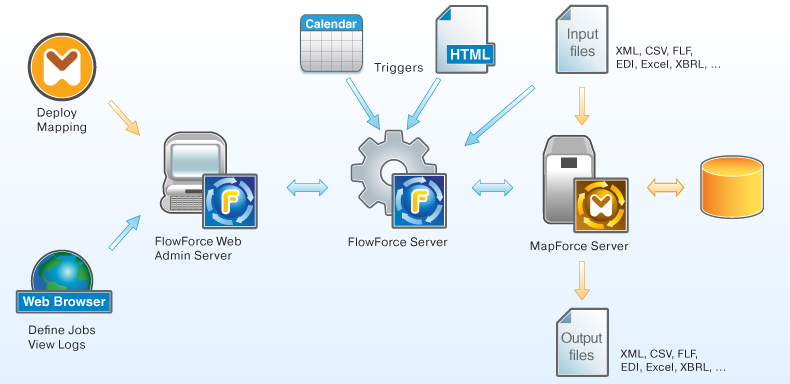 Altova FlowForce® Server Beta 3 is designed to automate the execution of MapForce data transformations and other tasks on dedicated servers, virtual machines, or workstations scaled for the scope of your project. An intuitive Web interface lets you define multi-step jobs triggered by a flexible schedule or by detection of new input files. FlowForce Server lets you efficiently automate and manage today's complex enterprise-level data integration tasks.
 
Triggers
FlowForce Server supports definition and execution of triggers to start data transformation jobs based on various criteria including time triggers for one-time or repetitive execution, file triggers to start a job when a specific file changes or when a new file is created in a hot folder, or remote triggers that poll for changes on an HTTP server.
 
Actions
A FlowForce Server Beta 3 job can include a series of actions performed when a trigger fires. A MapForce mapping deployed to FlowForce from the MapForce graphical environment enables all powerful data transformation features of MapForce in an automated server environment. Built-in actions such as copying or moving files, creating or removing directories, or executing arbitrary command lines allow you to move or delete intermediate working files, and much more.
Advantages
FlowForce Server provides an integrated workflow from mapping design through deployment. You do not need to generate and compile source code or combine data transformation code with other modules to schedule or administer job execution. All job execution steps are logged in detail and the system is administered either locally or remotely through an easy to use Web interface.
 
FlowForce Server Beta 3
Altova has released FlowForce Server Beta 3 to replace the FlowForce Server Beta 2 edition. FlowForce Server Beta 3 adds new functionality for remote job requests, job parameters, sub-jobs, and individual job queues.
ALTOVA Products
原廠網址:www.altova.com