Altova的MapForce®2013是一個屢獲殊榮的任何到任何圖形化數據映射,轉換和集成工具,地圖數據之間的任意組合XML,數據庫,平面文件,EDI,Excel中,XBRL,和/或Web服務,然後將數據即時自動生成免版稅的數據集成代碼的執行經常性的轉換。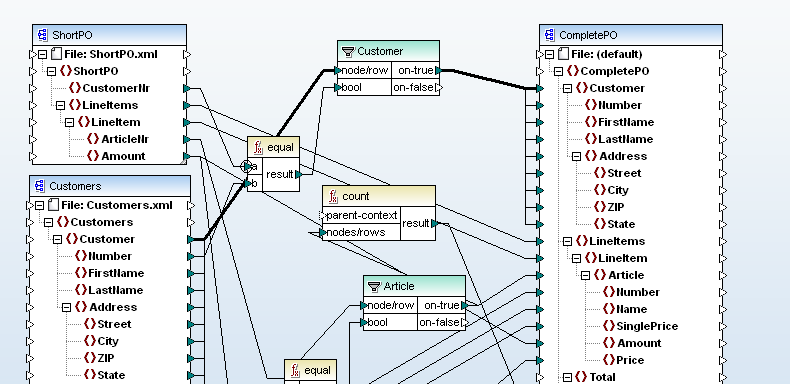 Altova MapForce® 2013 is an award-winning any-to-any graphical data mapping, conversion, and integration tool that maps data between any combination of XML, database, flat file, EDI, Excel, XBRL, and/or Web service, then transforms data instantly or autogenerates royalty-free data integration code for the execution of recurrent conversions.
 
Visual Data Mapping
To use MapForce, simply open data sources and targets as mapping components, drop in data processing functions from the customizable libraries, and then drag connecting lines between the nodes you wish to associate. The built-in execution engine lets you view and save output in real time.
 
Mapping Output
When designing a mapping project, the built-in MapForce Engine allows you to perform data transformations on-the-fly and view the output with just one click. Executing data transformations with the MapForce Engine greatly simplifies the process of testing and perfecting complex mappings, saving time and increasing productivity.
 
Generate Code for Data Transformations
For XML and database mappings you can view and save the XSLT 1.0/2.0, XQuery or SQL execution code. Or, you can choose Java, C++, or C# to automatically generate a turnkey application from your design. This empowers you to implement data integration and Web services applications without writing any code. MapForce-generated code is royalty-free, so you may deploy it without additional fees or deployment adaptors.
 
Powerful, Flexible, Cost-Effective
MapForce offers unparalleled power and flexibility for advanced data mapping, conversion, and transformation, making it the ideal tool for global and intra-enterprise data integration projects. You can easily integrate data from multiple files or split data from one file into many, and MapForce supports chained transformations to empower complex mappings in which the output of one mapping becomes the input of another.

 
ALTOVA Products
原廠網址:www.altova.com