MindManager是一個強大的心靈的映射工具,提升您的個人生產力。無論您創建一個商業計劃或開發一個新的網站,其強大的思維導圖的功能,你需要計劃和完成任何項目。
MindManager了包括Windows和Mac兩個版本。使用MindManager的,您可以:
提高您的個人生產力。組織您的所有想法,在一個單一的視圖,所以你可以看到連接和快速得出結論。
確保項目的成功。獲取到您的項目計劃的各個方面的知名度。在上下文中顯示大畫面,並保留了細節。
推動業務決策。視覺分析讓您立即看到變化的影響,預算,預測和商業計劃。

MindManager is a powerful mind mapping tool that boosts your individual productivity. Whether you're creating a business plan or developing a new website, its robust mind maps have the features you need to plan and complete any project.
Get more done because MindManager now includes versions for both Windows and Mac. With MindManager you can:



Boost your individual productivity. Organize all your ideas in a single view so you can see connections and draw conclusions quickly.


Ensure project success. Get visibility into every aspect of your project plans. Show the big picture and keep the details in context.


Drive business decisions. Visual analytics let you immediately see the impact of changes to budgets, forecasts, and business plans.
VISUAL FRAMEWORK
Seeing is understanding. Mind maps are virtual whiteboards where you can visually capture your best thinking to spark innovation. Just drag and drop to gather, organize, and prioritize your ideas. Add detail with images, hyperlinks, attachments, and notes.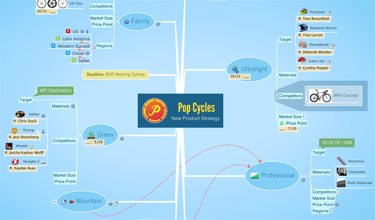 PROJECT PLANNING TOOLS
Turn ideas into action. Map out priorities, resources, schedules, and dependencies to appraise your plan and validate requirements. Review schedules in map or Gantt view to refine timelines and gain buy-in.
BUDGETING AND FORECASTING
Run the numbers. Automated calculations make decisions about budgets, forecasts, and portfolio tradeoffs clear. Adding numerical information and formulas to MindManager topics lets you instantly see the results of "what-if" scenarios. Evaluate strategic recommendations using 2x2 analysis views, including SWOT and Risk vs. Reward. Even create multiple analysis views on a single map.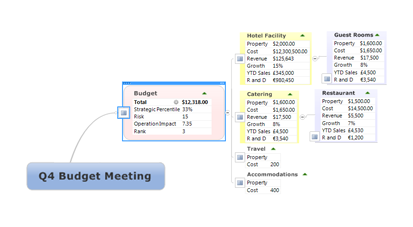 WORKS WITH YOUR CURRENT TOOLS
Save time. Organize your work in MindManager then export to the tools you use every day. MindManager works with most popular Microsoft Office and Apple productivity apps, including Outlook and Entourage. For more details, please see MindManager for Windows and MindManager for Mac.
WORKS ON ANY OPERATING SYSTEM
Stay versatile. Use Windows at work and Mac at home? No problem — MindManager includes both versions of the software.
MindManager 試用版下載 Windows 版本 請點擊此處
MindManager 試用版下載 Macintosh 版本 請點擊此處