Altova公司DiffDog®2013是唯一的差異/合併實用程序的文件,目錄和數據庫模式和表。這種功能強大,易於使用的差異合併工具,可讓您快速比較和合併文本或源代碼文件,目錄同步,並通過簡單的可視化界面的數據庫模式和表。,DiffDog還提供了先進的XML感知的差異和編輯功能。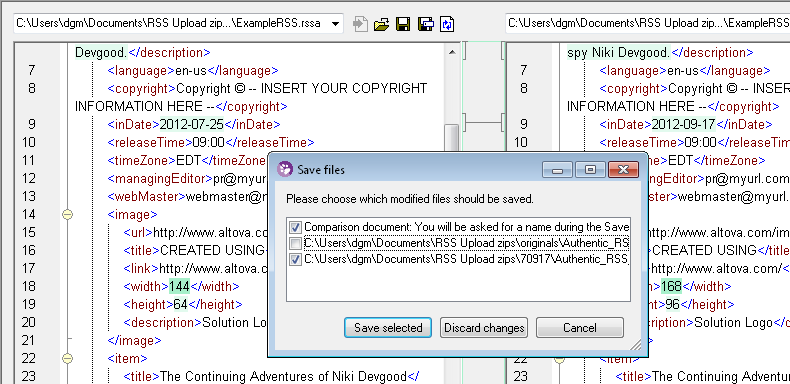 Altova DiffDog® 2013 is the unique diff / merge utility for files, directories, and database schemas and tables. This powerful, easy-to-use diff merge tool lets you quickly compare and merge text or source code files, synchronize directories, and compare database schemas and tables via its straightforward visual interface. DiffDog also provides advanced XML-aware differencing and editing capabilities.
 
File Differencing
Altova DiffDog® 2013 includes powerful capabilities for comparing and merging text files quickly and easily, even source code files, Word documents and compressed ZIP archives. You can compare and merge any type of text-based file, with support for Unicode, ASCII, MBCS, and any other file formats. Edit directly in either side of a comparison pair and update an existing file or save a new copy.
 
Folder Differencing
Today's power users and developers need a quick, efficient way to keep their many directories in sync – whether they contain source code and documentation files, or MP3s and digital images. DiffDog allows you to compare and merge folders and directories of any size, even folders on local and remote FTP and HTTP servers (based on user privileges) to compare, merge, and synchronize.
 
XML Differencing
DiffDog includes powerful functionality for comparing, merging, and editing XML files and schemas in an intelligent, XML-aware manner. With robust features such as well-formedness and validation checking, code completion, entry helpers, XML-conformant syntax coloring, and more, DiffDog is a must-have differencing utility for Web and software developers working with XML.
 
Database Differencing
DiffDog includes intuitive database compare and merge functionality for table contents and database schemas. You can compare two databases of the same type, for instance a developer's version and the production version of a database, or you can compare different database types. Merge table contents directly, or generate SQL merge scripts. Schema alter scripts can be run directly or sent to DatabaseSpy for further development.
 
ALTOVA Products
原廠網址:www.altova.com