Grapher 是繪圖程式,你需要快速且高效地創建功能強大,動態的程式將説明您幾分鐘內創建高級出版物品質專業圖表令人驚歎的關係圖。科學家、工程師和業務專業人員的理想選擇。
Grapher is the only graphing program you will ever need. Create powerful stunning graphs quickly and efficiently. Ideal for scientists, engineers, and business professionals.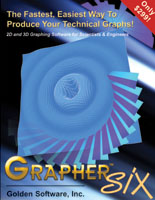 Feature
Grapher is the ultimate technical graphing package available. This easy-to-use, powerful, dynamic program will help you create superior publication-quality professional graphs in minutes! Wow your audience every time they see your graphs.



Create clear, concise graphs quickly and easily.


Customize every portion of every graph to make the graph completely unique to your situation!


Easily create custom graphs using the easy to follow Graph Wizard.


Add legends, curve fits, annotations, and drawing objects to complete the graph.


Communicate your graph to the entire world with full international fonts and character support. Display text such as Chinese, Russian, Greek, Hebrew, or Arabic.


Organize your objects in the Object Manager and edit your graphs in the Property Manager!


Create templates to use the same graph settings with multiple data files.


Save the graphs in Grapher 7, Grapher 8, Grapher 9, or Grapher 10 GRF or GPJ formats to make sharing documents between colleagues with different versions easier than ever!


Automate the graphing process with the included Scripter™.


Use the simple Script Recorder to record your graph making process! Play back scripts to create the graph with a single click!


Export graphs for use in presentations and publications in one of Grapher's many export formats, including vector PDF, EMF, and EPS.


Combine multiple axes or plots to display fabulous multiple variable graphs.
 
Create one of more than 60 unique graph types. Create 2D and 3D linear or logarithmic line, scatter, class scatter, bubble, function, and bar charts. Create line, bar, function, rose, and wind polar plots. Create line, scatter, or bubble ternary diagrams. Display data in several specialty graph types, including hi-low-close plots, 2D and 3D vector plots, contour maps, and surface maps. Display statistical information with histograms, pie charts, box-whisker plots, and Q-Q plots.
 

Didger Suite

Grapher Suite

MapViewer

Strater

Surfer Suite

Voxler