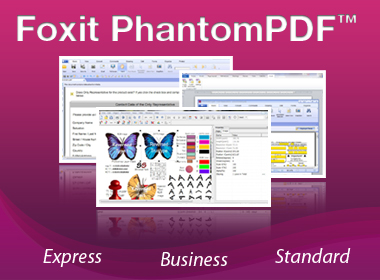 Foxit PhantomPDF以其豐富功能幫助您創建專業PDF檔和表單、市場資料最佳化、完成協議修改、數位簽章文檔以及檔案歸檔等,簡化流暢您的商務辦公。屢獲好評的Foxit PhantomPDF簡單易用且價格實惠,是一款快速、高效、安全的PDF工具套件;Foxit PhantomPDF以全新的面貌推出3個版本,滿足不同使用者需求,為個人/家庭用戶、中小型企業和大型企業分別客製化完美的PDF解決方案。
Foxit PhantomPDF Standard包含了PhantomPDF Express的所有功能,同時,能夠快速、簡單地創建符合專業標準的PDF文檔。除了簡單的高亮強調和標註功能,Foxit PhantomPDF Standard還能編輯文本、管理PDF頁面。另外,其實用的安全功能能夠嚴密保護您的重要檔,避免重要敏感資訊的洩露。
Foxit PhantomPDF™ provides the right features at the right price, allowing you to produce great looking PDF document and forms quickly, affordably, and securely. Foxit PhantomPDF is the perfect solution for home/home offices, small and medium sized businesses, and large enterprises. Foxit PhantomPDF comes in three versions to fit the diverse use cases that different users require.

The Features You Need, A Price You Can Afford
Foxit PhantomPDF Standard builds upon the capabilities of PhantomPDF Express. It enables quick and easy creation of professional looking PDF documents, highlighting and annotation capabilities, and functionality to edit text, manipulate PDF pages, and secure sensitive information in PDF documents. Highlighted features that PhantomPDF Standard provides include:



XFA Form Filling - XFA (XML Form Architecture) form allows you to
leverage existing XFA forms.


High Performance - Up to 3 times faster PDF creation from over 200 of the
most common office file types and convert multiple files to PDF in a single
operation.


One Click PDF Creation - Creates PDF document with a single mouse click
from Microsoft® Office® applications like Word, PowerPoint®, and
Excel®.


Direct Editing – Modifies existing PDF document content. Enables you to
delete pages, add pages, and assemble a new PDF document.


Convert PDF to Microsoft® Office, RTF, HTML, text, and image formats -
Easily shares PDF content with other applications, like Microsoft® Office.


Robust Document Security - Using password protection, certificate
encryption, and digital signature tools.


PDF Form Design - Easy to use electronic forms design tools to make your
office forms work harder. Enables you to create or convert static PDF files
into professional looking forms. Form data import tools allow data to be
automatically imported into a form, reducing manual key entering and input
errors.


Form Action Creation - Tools allow you to custom JavaScript actions to
gain increased customization options, you can connect to a database for the
purpose of inserting new data, updating information, and deleting database
entries.


Optical Character Recognition - OCR support to convert scanned or image-
based content into selectable and searchable text.


Create industry-standard compliant PDFs from any printable file or from the
clipboard, PDF/A supported - Since Foxit products are ISO 32000-1 / PDF
1.7 standard compliant, they are compatible with other PDF products, like
those from Adobe®.


PDF Optimizer - Optimizes PDF document to reduce the file size.


Batch Create PDF Documents - Creates PDF documents from multiple files,
you can even create from scanner.


Security - Validation of digital signatures and encryption with passwords.


Convenient Annotation - Inserts comments, highlights, stamps, and more
into existing PDF documents.


Set Document Information - Helps to archive and search PDFs with ease.


Email and Phone Support - Helps when you need it.
 
同公司產品
Foxit Reader for Windows Mobile