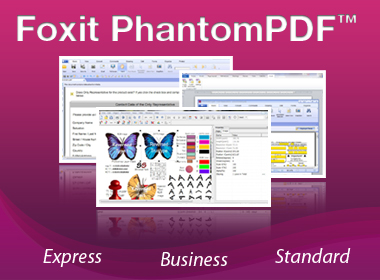 許多企業不僅需要創建和編輯PDF文檔,更加注意PDF的安全性,他們需要保證重要檔檔案符合法規和企業管理的同時,確保這些文檔審批後不被修改。因而,對於大型企業來說,擁有一套實用、小巧、易於使用且節省資源的PDF解決方案,是不可或缺的。作為專業PDF解決方案的供應商,Foxit PhantomPDF Business 正是這類企業的最佳選擇,本軟體是一款為大型企業量身設計的專業PDF電子文檔套件,提供強大豐富的功能,價格合理,滿足您對企業級PDF解決方案的所有期待。
Foxit PhantomPDF Business 是PhantomPDF Standard的進階版本,它包括了PhantomPDF Standard所有功能,不僅可以快速簡單地創建符合專業標準的PDF文檔,加上高亮強調和標註等功能,還新增了高階編輯功能。此外,新增的高端強大的安全功能能夠嚴密保護您的商業檔,避免重要敏感資訊的洩露。
The PDF Solution Alternative That Businesses Are Looking For
Many businesses need to do more than just create and edit PDF. They need PDF security that ensures regulatory compliance and corporate governance of their important documents and archives. They also need to ensure certified documents don't change after they are approved. It is essential to have a robust PDF solution that stands up to the demands of large enterprises but is lightweight enough to easily deploy to thousands of users without exhausting resources. Foxit PhantomPDF Business delivers Business Ready PDF by providing the right features (like edit PDF, protect PDF, create PDF, and more) at the right price with the quality and support you expect from an enterprise solution.

Business Ready PDF – Robust and Secure
Foxit PhantomPDF Business builds upon the capabilities of PhantomPDF Standard and PhantomPDF Express. It enables quick and easy creation of professional looking PDF documents, highlighting and annotation capabilities, advanced PDF editing capabilities, and high end security to safeguard sensitive information. Highlighted features of PhantomPDF Business include:

XFA Form Filling - XFA (XML Form Architecture) form allows you to leverage existing XFA forms.
High Performance - Up to 3 times faster PDF creation from over 200 of the most common office file types and convert multiple files to PDF in a single operation.


One Click PDF Creation - Creates PDF document with a single mouse click
from Microsoft® Office® applications like Word, PowerPoint®, and
Excel®.


PDF Editor - Modifies existing PDF document content. Enables you to
delete pages, add pages, and assemble a new PDF document.


Advanced PDF Editor - Provides high end PDF editing capabilities like the
ability to edit images.


Convert PDF to Microsoft® Office, RTF, HTML, text, and image formats -
Easily shares PDF content with other applications, like Microsoft® Office.


Robust Document Security - Using password protection, certificate
encryption, and digital signature tools.


Redaction - Lets you permanently remove (redact) visible text and images
from PDF documents.


Document Certification - Indicates you approve of its content and allows
you to specify the types of changes that are permitted for the PDF to remain
certified.


PDF Security with Microsoft® Active Directory® RMS Protector - Extends
the usage control benefits of Microsoft® Active Directory Rights
Management Service to all your PDF documents and allows the author the
control of document features within each PDF.


PDF Form Design - Easy to use electronic forms design tools to make your
office forms work harder. Enables you to create or convert static PDF files
into professional looking forms. Form data import tools allow data to be
automatically imported into a form reducing manual key entering and input
errors.


Form Action Creation - Tools allow you to custom JavaScript actions to
gain increased customization options, you can connect to a database for the
purpose of inserting new data, updating information, and deleting database
entries.


Optical Character Recognition - OCR support to convert scanned or image-
based content into selectable and searchable text.


Create industry-standard compliant PDFs from any printable file or from the
clipboard, PDF/A supported - Since Foxit products are ISO 32000-1 / PDF
1.7 standard compliant, they are compatible with other PDF products, like
those from Adobe®.


Bates Numbering - Used for document identification and protection.


PDF Optimizer - Optimizes PDF document to reduce the file size.


High Compression of scanned documents.


Email and Phone Support - helps when you need it.
同公司產品
Foxit Reader for Windows Mobile