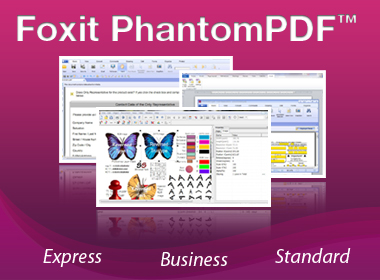 Foxit PhantomPDF Express 不僅支持許多中低階的PDF工具無法實現的功能,如創建符合業界標準的PDF文檔、與其他人共同創建PDF文檔,或在流覽器上閱讀PDF文檔,而且價格更實惠。Foxit PhantomPDF Express體積小、速度快,並且只需輕輕點擊滑鼠就能將一些常用的檔案格式準確地轉換成PDF文檔格式,並保持原始文檔的版式及顯示效果。
Create, Annotate, and Save PDF documents – Fast and Affordable
Many times creating professional looking PDF documents, collaborating with others to create documents, or viewing PDF documents from the web requires features that are not available in low end PDF tools. Foxit PhantomPDF Express provides the high end features you need at an affordable price. It is small, incredibly fast, and highly accurate for converting popular file formats to professional quality PDF documents with one click of the mouse, while retaining the look and feel of the original documents.

High End Features at a Low End Price
Foxit PhantomPDF Express provides high end features to enable quick creation of professional looking PDF documents quickly and easily. Highlighted features include:



XFA Form Filling - XFA (XML Form Architecture) form allows you to
leverage existing XFA forms.


High Performance - Up to 3 times faster PDF creation from over 200 of the
most common office file types and convert multiple files to PDF in a single
operation.


One Click PDF Creation - Creates PDF document with a single mouse click
from Microsoft® Office® applications like Word, PowerPoint®, and
Excel®.


Batch Create PDF Documents – Creates PDF documents from multiple
files, you can even create from scanner.


Security - Validation of digital signatures and encryption with passwords.


Convenient Annotation - Inserts comments, highlights, stamps, and more to
existing PDF documents.


Set Document Information - Helps to archive and search PDFs with ease.


Email and Phone Support – Helps when you need it.
同公司產品
Foxit Reader for Windows Mobile