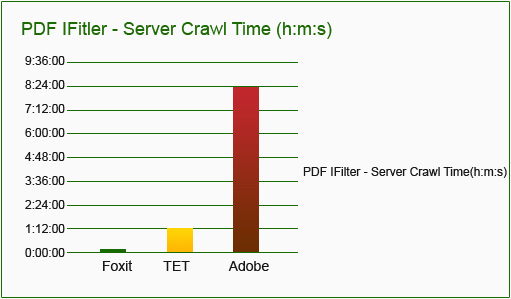 Foxit PDF IFilter 2.0跟其他版本一樣,都是基於微軟IFilter索引使用者介面,在PDF檔中提取內容、屬性和書簽,然後在微軟操作視窗將索引結果返回到搜尋引擎的一款PDF索引工具。利用Foxit PDF IFilter,您可以在桌面、企業伺服器或者網路上,根據關鍵字快速地搜索出任何一個您想要搜索的PDF檔,完全不受PDF檔大小的限制。 這裡所指的PDF檔可以是檔,也可以郵件附件或資料記錄。
Search for PDF Documents with the Fastest PDF IFilter on the Market
Foxit's PDF IFilter provides super-fast indexing allowing users to index a large amount of PDF documents and then quickly find desired documents by specifying search criteria. Built on Microsoft®'s IFilter indexing interface, Foxit PDF IFilter extracts data from PDF documents and returns the index results to search engine software. It goes beyond Adobe® and indexes PDF content, titles, subjects, authors, keywords, annotations, bookmarks, attachments, create time/date, number of pages, and the names of the creating applications. This results in more precise search results. PDF documents can be rapidly searched on the desktop, a corporate server, or via the Web through keywords. These PDF documents can be files, email attachments, or database records.

Unique Multi-Core Support Delivers Fastest Search Available
PDF IFilter is designed to unleash the computing power of today's advanced server architectures to perform crawls at blazing speeds. Unlike other IFilter products, it takes full advantage of today's multi-core server architectures, is thread safe, and is available for both 32-bit and 64-bit operating systems - making it the absolutely fastest PDF IFilter available.

Reduces Customers Total Cost of Ownership
PDF IFilter's superior performance and scalability reduce customers' total cost of ownership through decreased costs of server hardware, data center floor space, power and cooling, and administration.

Compatible with Your Existing Environment
Foxit PDF IFilter supports multiple languages, including Asian languages, with ease. PDF IFilter supports indexing of ISO 32000-1 (which based upon PDF 1.7), PDF-A, and Adobe PDF files.

Server and Desktop Product Options Available
PDF IFilter comes in two editions: a server and desktop edition. Each edition has the same advanced search features. Whether your search on a server or your desktop, Foxit PDF IFilter will provide quick and precise search results.

Convenient Desktop Bundles
For a complete desktop PDF solution, Foxit provides a PDF IFilter Desktop bundle with PhantomPDF™ Standard and PhantomPDF Business for easy purchasing at a special bundle price.

 
同公司產品
Foxit Reader for Windows Mobile