UltraCompare 是一個資料夾比較和檔比較應用程式載入與功能,使您能夠比較文本的檔和資料夾,word 文檔中,並甚至 ZIP 檔案和 jar 檔案。UltraCompare 包括文本比較,二進位檔案比較與合併比較的檔之間的差異的能力。有的資料夾嗎?UltraCompare 還支援資料夾比較-包括本地/網路目錄比較、 ZIP 檔案比較和 FTP 比較。UltraCompare 支援自動、 方便資料夾同步和以及重複檔案查找器。
UltraCompare is a folder compare and file compare application loaded with features to enable you to compare text files and folders, word documents, and even zip files and jar archives. UltraCompare includes text compare, binary file compare with the capability to merge differences between compared files. Got folders? UltraCompare also supports Folder compare - including local/network directory compare, zip file compare , and FTP Compare. UltraCompare supports automatic, easy folder synchronization, and a duplicate file finder as well.

With automatic UltraEdit and UEStudio integration, UltraCompare is a compare tool you should not be without! A free trial is available; download now to start comparing files and tracking and merging differences.
 
What can UltraCompare Professional do for you?
Compare text
Do you work with text files and ever lose your place or forget which is the most current file? Ever wished you could easily compare the differences between file versions?

Programming
If you are inspecting your file or code changes by hand you are losing precious time, accuracy and productivity. Compare and merge operations are the cornerstone of a differences tool, and we have placed many merge/post-merge features into UltraCompare so you can easily compare your differences and merge your selections with confidence and trust. Whether you are a lone developer or work as part of a team, how many times have you wanted to compare your text files or compare source code to modified versions, and merge your changes into the newer versions?

Check out some screenshots of UltraCompare Professional in action.

System Administration
We all know to make backups - but what happens when something goes wrong and you need to compare your legacy backup with your current backup? Ever needed to compare SQL files between two databases? That's where a compare/merge/sync tool can help.

Remote Files
Do you find yourself needing to compare FTP files? Use UltraCompare's integrated FTP/SFTP to download your text files from the remote server, perform compare/merge operations, then save your files back to the server.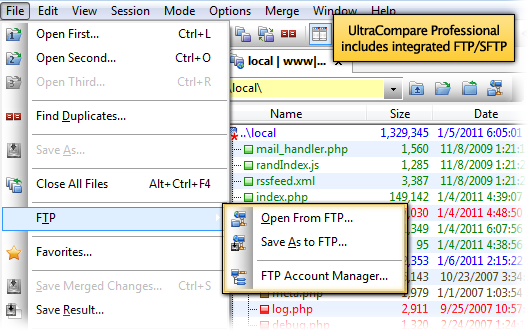 Everyday use
How many times have all of us downloaded a software update or text file and wondered what's changed since the last release or version?

Still not convinced? Look over our feature maps or our complete feature listing, or take a tour of the newest features. Finally, make sure to download your free trial today to start comparing and merging your files and folders.

Don't forget: UltraEdit users can save big when bundling UltraCompare Professional with an upgrade of UltraEdit!
 
同公司產品