可攜式應用是創新,開源,免費的USB驅動的操作系統平台,可用於用一個簡單的USB閃存驅動器的任何用戶!只需在您的USB閃存驅動器安裝可攜式應用軟件,你就可以去-攜帶所有您的收藏夾,設置,電子郵件,多與你-現在隨身攜帶您喜歡的文本編輯器和文件夾/文件比較解決方案!下載可攜式應用的安裝文件為用UltraEdit手機和可攜式應用安裝文件的UltraCompare移動現在開始您的便攜式解決方案。
Run the world's best file management solution on your USB drive!
UE-Mobile (UEM) and UC-Mobile (UCM): UltraEdit/UltraCompare for PortableApps!
Take the #1 selling, most powerful text editing solution with you: home, office, or on the road! Access the same countless features of UltraEdit/UltraCompare - macros, scripting, syntax highlighting, column mode, code folding, Unicode support, FTP/Telnet, etc. - all from your flash drive.
 
What does Versatility by Design mean? To us, versatility isn't just carrying your important files around on your flash drive; it's also having your most trusted development tools available on the same flash drive. This enables our users to make any PC, their PC. Anywhere. Anytime. Announcing UEM and UCM - mobile solutions for your USB drive.

Mobile UE/UC for PortableApps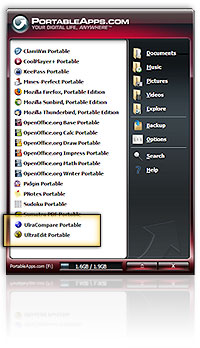 PortableApps is the innovative, open-source, free USB-drive operating system platform that is available for any user with a simple USB flash drive! Simply install the PortableApps software on your USB flash drive and you're ready to go - carry all of your favorites, settings, email, and more with you - and now carry your favorite text editor and folder/file comparison solution! Download the PortableApps install file for UltraEdit Mobile and the PortableApps install file for UltraCompare Mobile to begin your portable solution now.

For more information on PortableApps, as well as the free software needed to make your USB flash drive PortableApps-enabled, visit the PortableApps website.

 
同公司產品