UEStudio 14 在這裡現在是與萬眾編輯器中的主題功能 !通過一次按一下,更改 UEStudio 的皮膚、 色彩編輯器和語法突出顯示你想要的外觀和感覺的顏色。此版本還包括 CSS 顏色工具提示-一個方便的新功能,將會保存 網頁程式開發人員和設計人員的寶貴時間創建和修改 CSS 顏色時。UEStudio 14 與極大地改進了檔處理性能的檔案 100s MB 大到超過 10 GB 的檔的大小提供了性能提升。導航、 檔案開放與解析,滾動,和更多是都大大更流暢和更好地與較大的檔,在此版本中的。
UEStudio vs. UltraEdit... Work in groups or teams? Using version control? Need to save time? Need more power? Then you need:


Intellitips - intelligent auto-complete of variables, functions, classes, etc.


ClassViewer - a visual map of the symbols in your active project


Subversion / CVS integration


Advanced project and solution management


Compiling and building support


PHP and Ruby scripting support

UEStudio '14 is now here with the much-anticipated editor themes feature! With a single click, change UEStudio's skin, editor colors, and syntax highlighting colors to the look and feel that you want. This release also includes CSS color tooltips - a convenient new feature that will save web developers and designers precious time when creating and modifying CSS colors. UEStudio '14 delivers performance boosts with greatly improved file handling performance from files 100s of MB large to files in excess of 10 GB in size. Navigation, file opening and parsing, scrolling, and more are all significantly smoother and more responsive with larger files in this release. Read on below for more...

New: Quick Find
Revolutionize the way you search in UEStudio with Quick Find. Quick Find is an unobtrusive, easily accessible search tool similar to the find bar in your favorite browser. Press Ctrl + F and begin typing the string you want to find. UEStudio will immediately jump to the first occurrence and highlight each match as you type.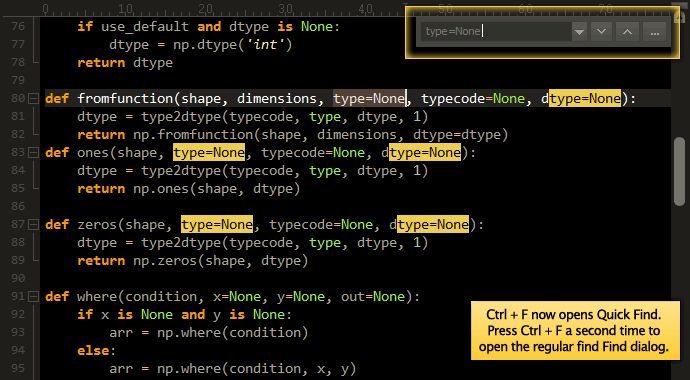 Need to get to the regular Find dialog? No problem - just press Ctrl + F a second time or click the "..." button. Press ESC to close the Quick Find dialog when you're done with your search and the highlighting is cleared.

Quick tip: You can also use Alt + Q to toggle focus between the edit window and the Quick Find dialog.

New: Multi-caret editing
Make multiple changes in different places in your file at one time. Add, delete, or select text in multiple places at once with multi-caret editing. Quickly close HTML tags on multiple lines of varying length. Add comments to the end of each line within a function block. Remove unwanted lines scattered throughout your file with a single keystroke. The possibilities are endless with multi-caret editing!

New: Re-imagined multi-pane FTP browser
Take your FTP to another level with UEStudio's completely re-imagined FTP browser. With independently resizable split explorer panes, drag-and-drop transfers, color-coded transfer status, and a whole lot of performance improvements...there's nothing this FTP client can't do.

New: More robust theme support
We've taken themes to a new level with the addition of modernized scrollbars that now adjust to match the colors and look of your active theme. Other areas that are now themed are the FTP browser (shown above), input fields, the window splitter, and various other GUI elements.
 
New: FTP transfers in output window
UEStudio 14.10 now includes a new "FTP transfers" tab in the output window to report FTP transfer status information for remote files opened via the file view, Recent/Project/Favorite Files, or on startup. Instead of a modal transfer window which disappears after the transfer is complete, all transfer information is now compiled in one easily accessible and hidable container.
 
同公司產品