PPO ™ 是一個軟體工具,通過其總體貢獻他們的戰略價值、 做能力、 投資和受益的時間啟用的評價和確定優先次序的提議和飛行中的所有專案。
PPO™工具將引導您完成:


定義和加權標準


創建一個項目清單


財務和人力資源分配資源


評估項目列表


提供的投資組合組成的可視性


優先的項目對交付能力(財務和人力資源)


優化投資組合
What is PPO™?
PPO™ is a software tool that enables the evaluation and prioritisation of all proposed and in-flight projects by their overall contribution of their strategic value, do-ability, investment, and time to benefit.

Why PPO™?
The PPO™ tool is founded on strong methodology delivered through a pragmatic 7 step process that enables an organisation to manage scarce resources to achieve the "best bang for your buck".

The PPO™ tool assists with prioritisation of projects and identification of gaps in realising strategic objectives to support effective decision making based on an optimised portfolio.
 
The PPO™ tool will guide you through:


Defining and weighting criteria


Creating a project inventory


Allocating financial and human resource resources


Evaluating the project list


Providing visibility of the portfolio composition


Prioritising projects against capacity to deliver (financial and human resources)


Optimising the portfolio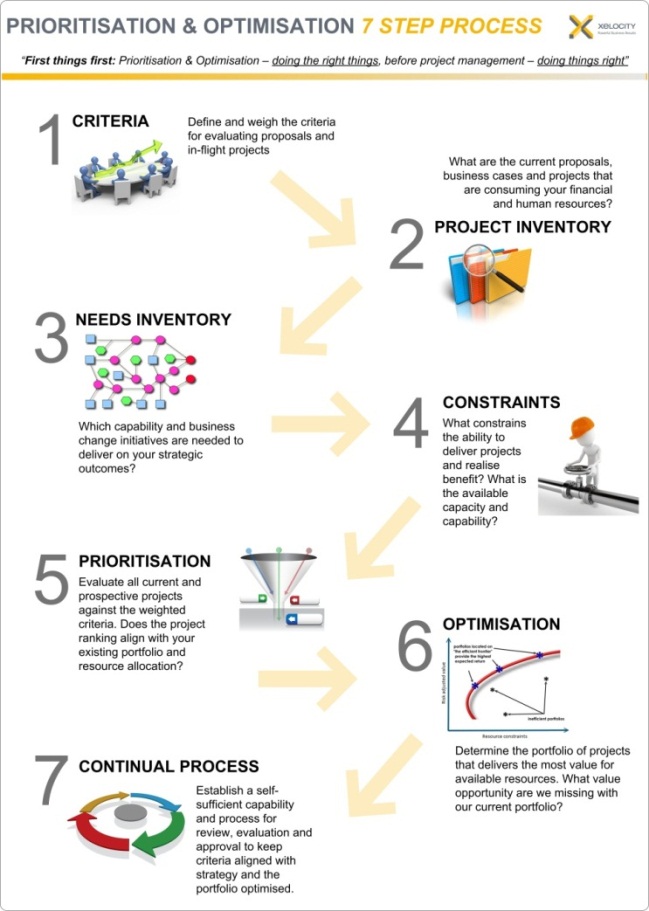 The tool also gives assurance to senior executives that the following questions are answered:


Do we know if we are doing the right projects?


What combination of projects will give us the most value from our constrained resources?


What projects can we or can't we deliver?


Is benefits realisation likely from the current projects?
 
Benefits of PPO™?
The purpose of a portfolio is to be able to select project investment that will best enable the achievement of the organisations strategic goals.

The PPO™ tool has been created to support the process and can add immediate value by:


Creating visibility of projects in relation to their relative importance and strategic contribution


Supporting leadership consensus about what is important to deliver and only funding projects that will generate the most value


Enabling decision makers to stay current with evolving needs


Enabling decisions makers to manage resources more effectively through focusing on the priority projects for resources and effort


Reducing waste and increasing value creation opportunities by 20%-40% (UMT Portfolio Management).

 
同公司產品