SnagIt為您提供了您需要創建引人注目的圖像和視頻很容易共用的所有工具。自訂以滿足您的特定需求或需要的您的整個組織的SnagIt。

Snagit gives you all the tools you need to create eye-catching images and videos for easy sharing. Customize Snagit to meet your specific needs or the needs of your entire organization.


How Can Snagit Work for You?
Snagit makes communication easier everywhere! That's why people across the globe are using Snagit's image and video capture for…
 
Education
Snag any image and enhance it with effects, or create a quick video of your computer screen. Then share your content instantly with your class, or save it for later.

Business
Grab and keep your audience's attention. Snagit gives you all the tools to create engaging images and videos for presentations, feedback, tutorials, training documents, and more.

Home
Whether you're researching your genealogy, creating images for a scrapbook, saving online receipts, or keeping account histories in order, Snagit helps you capture and organize it all.
 
Snagit on Windows Features
Capture anything on your screen with the ultimate screen capture tool. With Snagit's easy-to-use tools, you can quickly create images and videos to give feedback, solve a problem, or show off something cool. Snagit empowers you to communicate efficiently with visuals that give your ideas clarity and help you explain any subject.

Capture Anything


Your capture is just a click away.
Quickly capture what you need, when you need it. No matter what program or browser you're using, Snagit OneClick stays on top of your current window - always available when you need it. Get instant access to image and video capture tools, hotkeys, capture profiles, and the Snagit Editor. Always ready when you are, OneClick lets you instantly capture anything on your screen.
 

Communicate clearly.
Don't confuse your audience by trying to explain a complex idea with only words. Instead, show them with video! Easily create screen videos for demos or quick reviews, and share them with anyone, anywhere. Plus, Snagit now records system audio automatically, so you'll be able to capture sound from your computer, such as a YouTube video, during a recording without any extra effort.
 

Customize Snagit installation and deployment.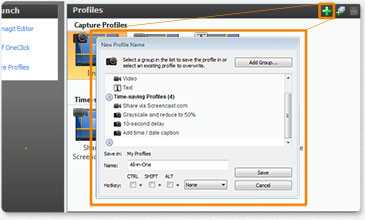 IT and system administrators can customize and deploy Snagit to best fit their institution's needs by configuring the MSI, REG settings, or even utilize a COM server. Change Snagit's look and feel, include custom profiles, and determine some settings and behaviors.



Quickly capture exactly what you want.
Streamline your capture process by saving the settings for your most common capture needs. Snagit includes a wide variety of default profiles for you, or you can create your own custom profiles to automate sharing destinations, file naming, file formats, captions, effects, and more. These time-saving profiles make your work faster and easier - right out of the box.

Enhance Your Images


Highlight what's important.
Draw attention to a specific part of your image. Just select the portion you want highlighted and Snagit will blur and darken everything else.



Enhance with effects.
Easily add effects to your images. Draw attention with arrows, hide sensitive information with a blur, add a text callout or torn edge effect to your captures, and so much more.

Work Efficiently
Stop searching, and save time.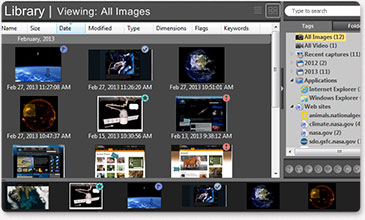 All of your captures are automatically saved to your library, with the most recent captures viewable all the time. You can also search for your captures by date, website, or a flag that you assign. Quickly find past captures without spending time digging for them
 
Save, Share, or Send
Efficiently share your images and videos.
Save, share, or send your image and video captures to anyone with a variety of outputs. Easily send your image captures to the usual lot, or now share to Facebook, Twitter, and Evernote too. When you're done recording or capturing a screen video, you can choose to send your video to Camtasia Studio for editing or Screencast.com, YouTube, FTP, Facebook, or Twitter for easy sharing.

 
同公司產品