SOBEK
A general software package for the integral simulation of processes in one dimension, i.e. in a river, an estuary, a canal or in a sewer network.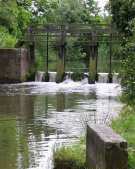 It is a powerful instrument for flood forecasting, optimisation of drainage systems, control of irrigation systems, sewer overflow design, ground-water level control, river morphology, salt intrusion and surface water quality. It has been developed - and is being further developed - jointly with Dutch public institutes and private consultants
Product lines
SOBEK has three basic product lines covering any fresh water management situation in River, Rural and Urban systems alike. Each product line consists of different modules to simulate particular aspects of the water system. These modules can be operated separately or in combination. The data transfer between the modules is fully automatic and modules can be run in sequence or simultaneously to facilitate the physical interaction.