eScan is a complete AntiVirus, AntiSpam and Content Security solution that

provides proactive protection against Trojan, Worm, Rootkits, Keyloggers, Malware, Spam and Offensive Content.
 eScan是一個 完整的病毒防護、反垃圾郵件和內容安全解決方案。提供主動式防護來對抗惡意程式,保護電腦免受 惡意程式的威脅。eScan提供系統管理員經由管理主控台(EMC)來遠端管理整個網路,擁有強大技術確保完整保護電腦系統和網路。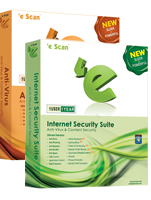 Features
New Secure Web Interface
The new Secure Web Interface uses SSL technology to encrypt all communications between the server and the clients effectively preventing man in the middle attacks.
Endpoint Security with Device Management (USBs and CD/DVD ROMs)
Administrators can assign privileges to clients on access to the removable devices such as USB Devices. With application control, the administrators can also define applications that can be restricted on the client computers.
 
Network Outbreak Prevention, Live Alerts and Reports
It can also instantaneously display live alerts about Applications, USB / Flash device, and Site Browsing information of the clients. Administrators can view comprehensive reports on all the clients and can also export the reports toto HTML, JPEG, PDF formats for in-depth analysis.
 
Hotfix Management
Administrators can now manage Critical Hotfixes released by eScan and Microsoft to ensure that all the clients in the network are updated with the latest patches.
 
Enhanced Firewall on both the Server and the Client
The two-way Firewall with predefined rule sets at the client monitors and logs all incoming and outgoing traffic according to the policy defined for the client.
 
Multilanguage Support
eScan is available in multiple languages. You can choose the language while installing the software. The languages available are English, German, Finnish, French, Italian, Portuguese, Spanish, Polish, Chinese and Latin Spanish.