XFrog是用來創建有機類組織結構的3D軟體,其主要用來對如樹,花朵,灌木叢,有機迭代體系結構,概念有機體進行建模及動畫的創作。是世界上唯一一個可以方便地表現植物生長的軟體。,是完全使人信服的樹木、花草建造軟體,並能很容易被建造和使用,還能作其模型並生長....《 時間機器 》電影一片中的草原樹木生長鏡頭就是這個軟體作的。

Xfrog提供的模型庫有超過600種植物。所有的樹葉、樹幹、花朵等都採用實物掃描,更為真實。採用開放的光年(Light Years)系統,超越L-SYSTEM,更快,更易控制,用戶可以自行輸入掃描的葉片或花朵等素材。
■ 輸出格式支援:RayShade .shade;Wavefront .obj;Autocad .dxf;Renderman .rib;LightWave 6.5 .lwo;3D studio .3ds;VRML 1.0 .wrl等各種主流三維軟體。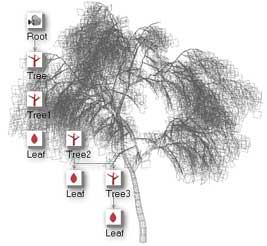 Xfrog is a 3D graphics program, used for organic modeling and animation ( Xfrog Full Version only ), which runs on all flavors of Windows. We recommend minimum 256 Mb RAM, and hardware or software support for OpenGL.
The organic application
Create Trees, Flowers, Organic-Iterative Architecture, Abstract work, Special Efx work with our standalone application.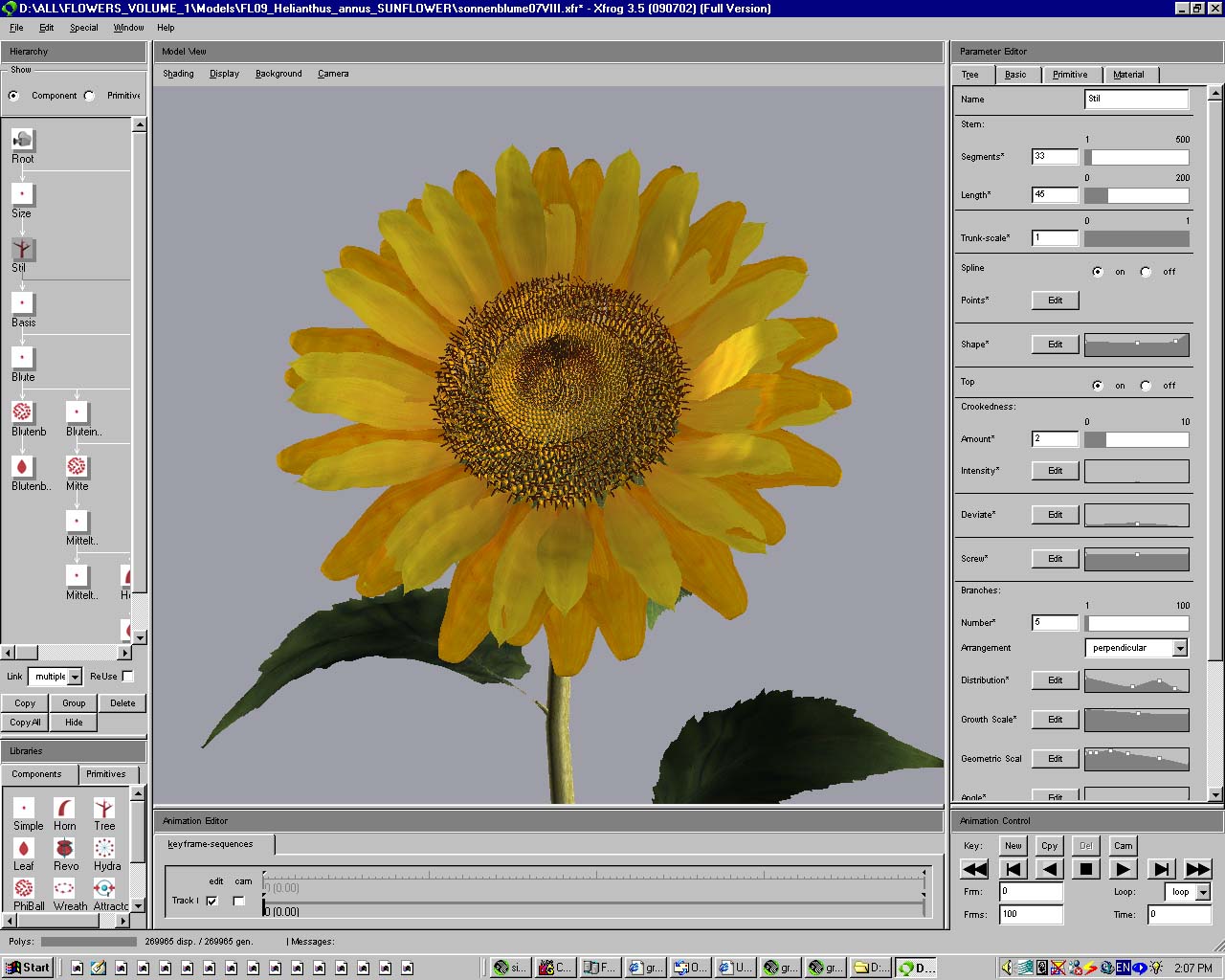 The Philosophy behind Xfrog is to offer various mathematical procedural components, to provide a way to simulate various types of mathematical structures found in Nature. For example - a Tree component, which simulates the way real trees branch. A Phiball component, which simulates distribution of the golden mean across the surface of a sphere, which is commonly found in Flower centers ( such as the Sunflower above ).

Xfrog offers 10 components, each with a different function:

Simple, Horn, Tree, Leaf, - These are used to build.

Revo, Hydra, Phiball, Wreath - These are used to multiply and distribute in specific ways.

Attractor, HyperPatch - These are used for local or global distortions.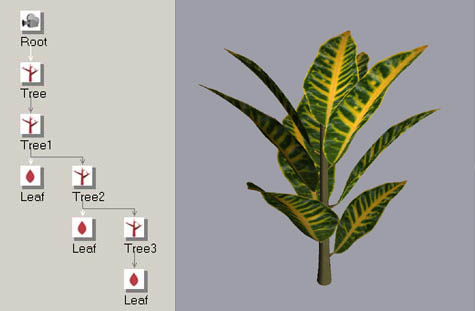 All the components can be animated by varying their parameters, such as number of branches, crookedness, randomness, strength of attraction, gravity, phototropism. With such techniques, a quite convincing Flower can be built and animated very easily , or a Tree can be modeled and grown. Or an Architectural model can be constructed using components which describe a multiplied sequence of elements around a corkscrew path.