Get all of Xceed's components, including grids, themes, charts, UI, Zip, FTP,

and encryption. 65+ controls and libraries.
Over 65 quality controls and libraries. Provides all of Xceed's user interface, and data manipulation components. Also includes the advanced features of Xceed DataGrid for WPF Professional Edition and the world's first commercially available control for Silverlight 3, Xceed Upload for Silverlight, as well as the only professional Zip/Unzip solution for Silverlight, Xceed Real-Time Zip for Silverlight.
The only suite that offers both UI tools for application front-ends and data-handling libraries for application back-ends.
Also available is the Blueprint Edition so you can also get the fully commented C# source code to all the .NET components.
 
Technically superior. All .NET / Silverlight 3 controls written in managed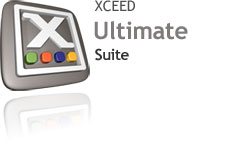 code, all ActiveX/COM controls (except SmartUI ActiveX) written in ATL 3.0 and supporting both the STA and MTA multi-threaded apartment models. No external dependencies. Available .NET source code.