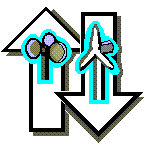 WAsP has been employed for more than 20 years within wind power meteorology and in the wind power industry – and has become the industry-standard PC-software for wind resource assessment and siting of wind turbines and wind farms. WAsP runs on Windows 2000, XP, Vista, and 7.
The WAsP software package
The WAsP software package consists of four Microsoft installer files: the WAsP program, the WAsP Climate Analyst, the WAsP Map Editor and the WAsP Licencing System.
The WAsP installation program also installs the WAsP Turbine Editor, a complete set of sample data files, several demonstration projects and the Danish Wind Atlas. Documentation is included as on-line help files.

The wind atlas methodology
WAsP is a PC-program for the vertical and horizontal extrapolation of wind climate statistics. It contains several physical models to describe the wind flow over different terrains and close to sheltering obstacles. WAsP is an implementation of the so-called wind atlas methodology, which may be summarised as follows:
Analysis

time-series of wind speed and direction —> observed wind climate (OWC)

observed wind climate + site description —> regional wind climate (wind
atlas data sets)
Application

regional wind climate + site description —> predicted wind climate (PWC)

predicted wind climate + power curve —> annual energy production (AEP)
of wind turbine
Wind farm production

predicted wind climates + WTG characteristics + wind farm layout —> wind
farm wake losses

annual energy productions + wake losses —> net annual energy production
of entire wind farm
WAsP功能
分析
時間序列的風速和風向 — > 觀察風氣候 (OWC)

觀察到風氣候 + 網站描述 — — > 區域風氣候 (風圖集資料集)
應用程式
區域風氣候 + 網站簡介 — — > 預測的風氣候 (預)

預測風氣候 + 功率曲線 — — > 風力發電機組的年度能源生產 (政府辦公室)
風電場生產
預測風的氣候與風力發電機組的特點 + 風農場佈局 — > 風力農場後損失

能源年產值 + 喚醒損失 — — > 淨整個風電場年發電量