作為連續的數據記錄的自動記錄儀,應用範圍從神經系統科學,心血管和生理研究那裡,直達工程應用。
Spike2的選擇是為全球成千上萬的研究人員的數據採集系統。無論您是需要簡單的數據採集或一個完整的包進行實驗控制,記錄和分析,Spike2的比其他數據採集系統的許多優點。
Spike2的包括適用於廣泛的研究應用記錄和分析功能。你並不需要購買特殊任務附加模塊

Spike2具有強大功能和靈活性要求苛刻的應用程序來說,你會希望需要更多的專業設備,例如胞外多電極記錄和複雜 ​​的激勵時間和交貨

Spike2的具有採樣和分析功能,大多數研究人員所需要的。還有一個內置的腳本語言,它提供了靈活性遠遠超出了可以從很多替代產品,允許重複任務的自動化,並提供了許多額外的工具為研究者誰喜歡自己寫的應用程序

Spike2可以導入記錄的許多其他系統中的數據,這樣就可以利用這個極為通用軟件的優勢,分析現有數據的Spike2可以將數據導出到電子表格,文本,二進制和Matlab文件 的強大的數據採集和Spike2的節省時間的分析功能連同CED 1401系列的實驗室接口中的一個做出

極其寶貴的和具有成本效益的除了任何實驗室。
Spike2 is the data acquisition system of choice for thousands of researchers worldwide. Whether you require simple data capture or a complete package for experiment control, recording and analysis, Spike2 has many advantages over other data acquisition systems.



Spike2 includes recording and analysis features suitable for a wide range of research applications. You do not need to purchase add-on modules for specific tasks



Spike2 has the power and flexibility for demanding applications for which you would expect to require more specialised equipment, for example extracellular multi-electrode recording and complex stimulus timing and delivery



Spike2 has the sampling and analysis features most researchers need. There is also a built-in script language which provides flexibility far beyond that available from many alternative products, allowing automation of repetitive tasks and providing many additional tools for researchers who prefer to write their own applications



Spike2 can import data recorded by many other systems, so that you can take advantage of this extremely versatile software to analyse existing data Spike2 can export data to spreadsheet, text, binary and Matlab files

The powerful data capture and time-saving analysis functions of Spike2 together with one of the CED 1401 family of laboratory interfaces make an extremely valuable and cost-effective addition to any laboratory.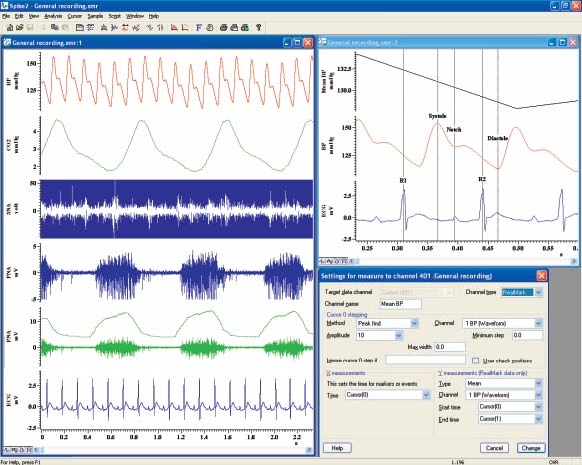 心電圖記錄與R波的自動檢測 峰和BP的功能,和平均血壓的繪製
Features


Navigate through your data quickly and simply using the intuitive user interface;zoom and scroll with the mouse or keyboard


Record multiple data types, including waveforms, event times, coded markers, and discriminated single or multi-unit spike data in real-time


Generate simple and complex protocols of waveform and pulse outputs


Detect features manually or automatically and take measurements based on
triggered and cyclical data


Analyse multiple channels of waveform and event data on-line and off-line


Process data with functions including: filtering, rectification, interpolation and inter-channel arithmetic


Display and export images as you want them, with versatile display options including: triggered update with optional overdraw and 3D display and duplicated windows with independent display settings


Record very large numbers of channels by synchronising multiple CED 1401s with no timing drift between them


Customise the program with the built-in script language that provides control from simple automation to addition of complex analysis functions


Replay data files, with simultaneous output of waveform data through 1401 DACs or computer sound card


Record video and audio alongside Spike2 data files

Processing and analysis


Waveform analyses including averaging, power spectra and waveform
correlations


Event analyses including INTH, PSTH, auto and cross correlations and phase histograms


Automatically find data features including triggers and features in evoked,
spontaneous activity and cyclical data with 'active' cursors


Generate XY plots and measurement channels in data files and output tables of values based on cursor feature detection


Take absolute and relative measurements of positions, data values and inter-cursor statistical measurements with up to 10 active cursors per view


Derive 'virtual channels' from existing waveform and event channels defined by user-supplied expressions (channel arithmetic)


Process waveforms dynamically on- and off-line. Processes include rectify, smooth, DC remove, downsample, median filter and RMS amplitude


Create temporary channels containing copied or derived data


Digitally filter waveforms (FIR and IIR) with interactive filter design


Interactively fit data with functions including exponential, Gaussian, polynomial, sinusoid and sigmoid
Script language
From complete beginners to experienced programmers, anybody can benefit from the built-in Spike2 script language. Even simple automation of repetitive tasks with known parameters can save hours or even days of tedious analysis. Advanced applications include complete experiment control with on-line application of original algorithms to sampled data in real-time.

The script language not only links Spike2's features but also allows you to generate your own interface and design algorithms. There is a simple macro recording facility to provide a starting point for new scripts. The script language also includes data manipulation tools such as multi-dimensional arrays and matrix functions.

CED maintains a collection of scripts for a wide range of common and specialised applications. If the scripts included with the Spike2 software and available via the CED web site do not meet your needs, contact us to discuss your requirements.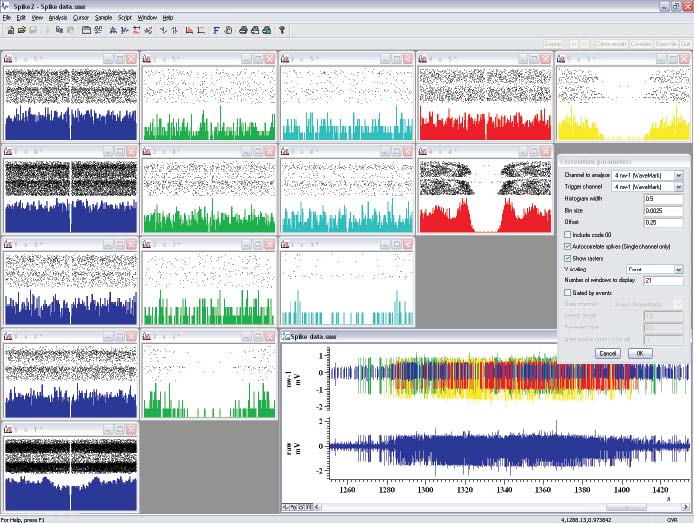 腳本驅動的多單位交叉相關分析
System requirements
Spike2 for Windows version 6 requires a CED Power1401, a Micro1401 or a 1401plus intelligent laboratory interface, and a PC with Windows NT 2000, Windows XP, WindowsVista™ or Windows7. We recommend that the PC has 2GB minimum of RAM.