互動式軟體改進質量和客戶滿意度!!!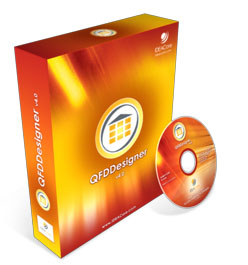 ★ CORE Benefits

● Design for Six Sigma (DFSS)
● Customer-Focused Designs

● Power QFD/Concept Selection

● Strategic Plan Deployment

● Optimize Resource Allocation

● Stellar Product Development




The tool for Business Improvements (compatible with MS Windows 95/2000 or NT)

Realize quicker pay back on your Policy Deployment projects, Quality Function Deployment projects, Business Planning projects, Design Failure Mode & Effects Analysis (DFMEA), Process Failure Mode & Effects Analysis (PFMEA) and Best Practices Analysis with this feature rich tool. Get all you need to create, manage and advance all your Business Improvement work in one package. It's still the easiest to use most interactive software for improving quality and customer satisfaction.
 
◊ Easy to use:

Work right on chart

Cut, copy & paste chart images for easy reporting

Quick templates

ASCII import/export requirements

Lock WHATs/HOWs while you scroll

Zoom out to preview and navigate easily

Help includes navigate method info

Link to internet/intranet sites

Embed audio or video files or custom bitmap symbols

Extract subset charts to divide work among the team

◊ Customize Layouts

Stretch/Shrink chart regions

Unlimited chart size

Hide/Unhide (keeps key data confidential)

Place custom rooms anywhere

◊ Template Data Files Included

Voice of the Customer Table

Pre-Planning Matrix

Phase I (Product or Service Planning)

Phase II (Design Planning/Parts Deployment)

Phase III (Production Planning)

Phase IV (Process Planning)

Pugh Concept Selection

Hoshin Audit - Policy Deployment

Several Business Planning templates like Executive Strategies, etc.

Design - and Process Failure Mode & Effects Analysis

Best Practice Matrix (for Six Sigma Analysis)

◊ Analysis/Power Tools

Customize with Numeric, Symbol, Text or Survey Rooms

Auto Survey Analysis pinpoints improvement areas

Auto Phase Progression (rotates data to next phase charts)

Sort WHATs/HOWs by any numeric room's data

◊ Output Flexibility