功能強大的即時引擎
PowerGadgets 提供即時的序列化和整個命令的執行,因此,在您的桌面上使用富可視圖表、 儀錶和地圖的組合,您可以監視即時資料。
無需編碼涉及
PowerGadgets 公開更多的圖形的設計圖面,像 Visual Studio 中找到相同的設計時體驗。若要更改設置,只需使用 PowerGadgets 的圖形嚮導。
SQL 伺服器的連接
PowerGadgets 可以方便地連接到 SQL Server (或任何符合 ODBC 的資料庫) 和中提取資訊。運行 SQL 查詢從您的桌面是到命令視窗中鍵入內容一樣簡單。
簡單的分佈和部署
Restribute PowerGadgets 檔,只需發送電子郵件或將小工具檔複製到另一個系統。然後,按兩下滑鼠具有有效的許可證安裝的 PowerGadgets 的使用者顯示該小工具 !
多個 Windows 環境
PowerGadgets 將運行在 Windows XP、 Windows Vista、 Windows Server 2003 和 Windows 伺服器環境中,可以運行在任何桌面或 Windows Vista 側欄上。
PowerGadgets doesn't require any development environments, servers or browsers to run real-time gadget components such as charts, gauges and maps.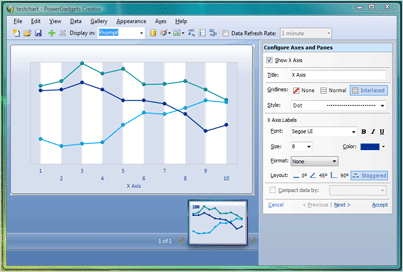 PowerGadgets Core Cmdlets
Once you have provisioned your computer with Windows PowerShell and PowerGadgets you can start creating visually rich gadgets in Windows Vista and Windows XP. PowerGadgets provides 3 main cmdlets:
Out-chart
PowerGadgets provides a powerful charting engine providing over 60 chart types and a wealth of aesthetical and functional features. A chart plots data in the form of series and points with each series containing one or more points.

Out-gauge
PowerGadgets provides an out-gauge cmdlet to display single-variable data in radial, linear and digital-panel gauges. Single-variable analysis is very powerful when combined with PowerGadgets' flexible real-time capabilities.
Out-map
PowerGadgets provides a mapping component that allows you to depict enterprise data on geographical maps or even on your own custom SVGs. PowerGadgets includes a comprehensive SVG map library that covers most geographic mapping needs.
Innovative Functionality
 
Powerful Real-Time Engine
PowerGadgets provides real-time serialization and execution of the entire command so you can monitor real-time data from your desktop using a combination of visually-rich charts, gauges and maps.
No Coding Involved

PowerGadgets exposes the same design-time experience found in much more graphical design surfaces like Visual Studio. Simply use PowerGadgets' graphical Wizards to change settings.
SQL Server Connectivity
PowerGadgets can easily connect to a SQL Server (or any ODBC-compliant database) and extract information. Running a SQL query from your desktop is as easy as typing into a command window.

Easy Distribution and Deployment
To restribute a PowerGadgets file, simply email or copy the gadget files to another system. A user with a valid license of PowerGadgets installed can then double click to display the gadget!
Multiple Windows Environments
PowerGadgets will run in Windows XP, Windows Vista, Windows Server 2003 and Windows Server environments and can run in either the desktop or on the Windows Vista Sidebar.