Performance, Load, and Stress-Test for Web Servers
Powerful HTTP-client/server test application pinpoints critical performance issues in your web site or web server.
By simulating the HTTP requests generated by up to 10.000 simultaneous users, you can test your web server performance under normal and under excessive loads to ensure that critical information and services are available at speeds your end-users expect.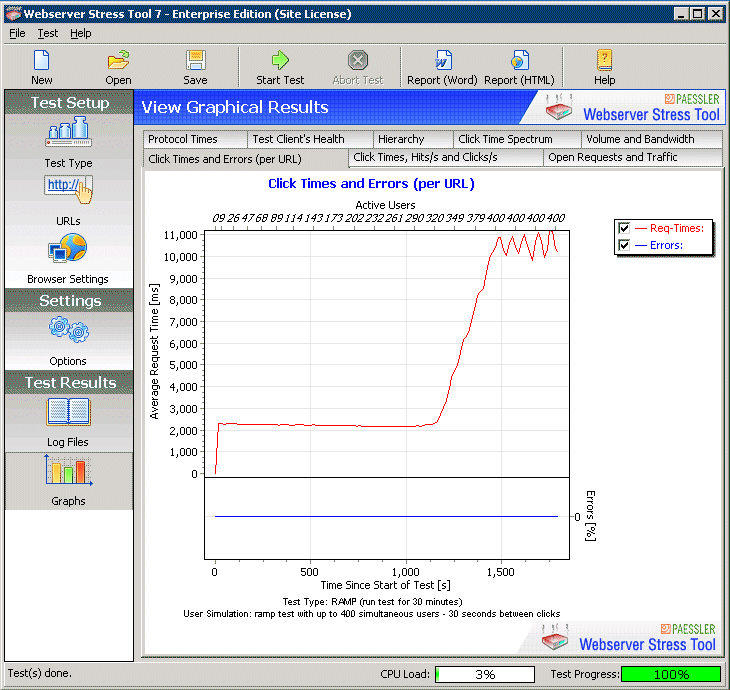 Why should you use Webserver Stress Tool?
Using Webserver Stress Tool when developing and running Websites is important for your web infrastructure:


Maximize Uptime: Resolve performance critical issues in your webserver before they bring down your website


Maximize Performance: Make sure that your websites and applications are given the server resources they need when they need it to guarantee a high quality user experience


Maximize ROI: Get everything out of the investment in your webserver technology through consistent and in-depth testing and analysis


Maximize Value: Webserver Stress Tool is the most cost-effective solution in the market for simulating performance, load, and stress tests for your web server


Minimize Efforts: The software installs in 5 minutes and works with all web servers


Read more about the features or see more screenshots of Webserver Stress Tool.
 
Supported Test Types
Webserver Stress Tool supports a number of different testing types. For example


Performance Tests—this test queries single URLs of a webserver or web application to identify and discover elements that may be responsible for slower than expected performance. This test provides a unique opportunity to optimize server settings or application configurations by testing various implementations of single web pages/script to identify the fastest code or settings.


Load Tests—this tests your entire website at the normal (expected) load. For load testing you simply enter the URLs, the number of users, and the time between clicks of your website traffic. This is a "real world" test.


Stress Tests—these are simulations of "brute force" attacks that apply excessive load to your webserver. This type of "brute force" situation can be caused by a massive spike in user activity (i.e., a new advertising campaign). This is a great test to find the traffic threshold for your webserver.


Ramp Tests—this test uses escalating numbers of users over a given time frame to determine the maximum number of users the webserver can accommodate before producing error messages.


Various other tests—working with Webserver Stress Tool simply gives you more insight about your website, e.g. to determine that web pages can be requested simultaneously without problems like database deadlocks, semaphores, etc.