PRTG網絡監視器是從Paessler AG的強大和全面的網絡監控解決方案。它使用的技術的整個範圍監視您的網絡,並保證網絡組件和措施,流量和使用情況而定。PRTG節省避免停電,優化連接,節省 ​​了時間和控制服務級別協議(SLA)的成本。
網路問題創建業務緊急情況。當網路落下時,雇員不能讀取電子郵件。客戶不能購買該產品。工作將停止。網路監控可以説明您保持您的業務健康:


避免昂貴的停機


在出現問題之前解決瓶頸問題


通過購買您需要的硬體,降低成本
 
PRTG網絡監視器運行在Windows計算機上的網絡中,收集來自您指定的機器,軟件和設備的各種統計信息。(它也可以自動發現它們,能幫助您繪製出你的網絡。),也保留了數據,所以你可以看到歷史業績,幫助您應對變化。

PRTG配備了一個易於使用的Web界面,點和點擊配置。您可以輕鬆地分享它的數據與非技術同事和客戶,包括通過實時圖形和自定義報告。這將讓您規劃網絡擴容,看哪些應用程序正在使用大多數您的連接,並確保沒有人霸占了整個網絡只是為了洪流視頻。

PRTG 提供多種語言,如:英語、 德語、 西班牙文、 法語、 荷蘭文、 日本、 捷克、 和簡體中文。
PRTG Network Monitor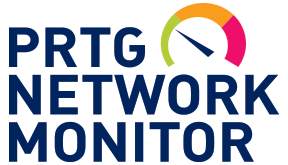 Full featured and easy to use network management software for bandwidth, usage, and availability monitoring.
PRTG Network Monitor is the powerful and comprehensive network monitoring solution from Paessler AG. It monitors your network using a whole range of technologies and assures the availability of network components and measures traffic and usage. PRTG saves costs by avoiding outages, optimizing connections, saving time and controlling service level agreements (SLAs).
 
More than 150,000 administrators rely on PRTG Network Monitor every day to monitor their LANs, WANs, servers, websites, appliances, URLs, and more Network problems create business emergencies. When the network goes down, employees can't read emails. Customers can't purchase the product. Work stops. Network monitoring helps you keep your business healthy:


Avoid expensive outages


Address bottlenecks before they cause problems


Reduce costs by buying only the hardware you need
Bandwidth Monitoring: Find Out Who Is Using Your Network, For What
PRTG Network Monitor runs on a Windows machine within your network, collecting various statistics from the machines, software, and devices which you designate. (It can also autodiscover them, helping you map out your network.) It also retains the data so you can see historical performance, helping you react to changes.
PRTG comes with an easy-to-use web interface with point-and-click configuration. You can easily share data from it with non-technical colleagues and customers, including via live graphs and custom reports. This will let you plan for network expansion, see what applications are using most of your connection, and make sure that no one is hogging the entire network just to torrent videos.
PRTG can collect data for almost anything of interest on your network. It supports multiple protocols for collecting this data:


SNMP and WMI


Packet Sniffing


NetFlow, IPFIX, jFlow, and sFlow

Feature
Easy to Use: Choose Between Five User Interfaces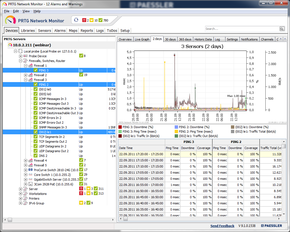 Full featured web browser based Interface: state of the art, AJAX based web site


HTML only, minimalistic web browser based interface (feature limited) for older browsers and mobile devices (runs on IE 6/7/8, iPhone, Android, Blackberry)


Enterprise Console: Native Windows application especially for large installations. Supports viewing monitoring data of several PRTG installations in one single application.


Apps for iOS (iPhone/iPad) and Android smartphones / tablets: Access monitoring status while on the go (separate download)


All user interfaces allow SSL-secured local and remote access and can be used simultaneously
 
Comprehensive Network Monitoring


More than 200 sensor types covering all aspects of network monitoring


Uptime/Downtime Monitoring


Bandwidth Monitoring using SNMP, WMI, NetFlow, sFlow, jFlow, Packet Sniffing


Application Monitoring


Virtual Server Monitoring


SLA monitoring


QoS Monitoring (e.g. when using VoIP)


Environmental Monitoring


LAN, WAN, VPN, and Multiple Site Monitoring


Extensive event logging


IPv6 support


Agent-less monitoring (optional agents (remote probes) allow monitoring for even deeper metrics)
 
Flexible Alerting


9 notification technologies: Send Email, SMS/Pager, syslog and SNMP Trap, HTTP request, Event log entry, Play alarm sound files, Amazon SNS, any external technology that can be triggered by an EXE or batch file


Status alerts (up, down, warning)


Limit alerts (value above/below x)


Threshold alerts (above/below x for y minutes)


Multiple condition alerts (x and y are down)


Escalation alerts (extra notifications every x min during downtime)


Dependencies (avoid alarm floods)


Acknowledge Alarms (no more notifications for this alarm)


Alert Scheduling (no low priority alerts at night)
 
Distributed Monitoring Using Remote Probes
With the so called Remote Probes PRTG Network Monitor can be used to monitor several networks in different locations:


Monitor all subsidiaries from the headquarter


Monitor separated networks within your company (e.g. DMZ and LAN)


As MSP you can monitor your customer's networks and increase the quality of service
 
Data Publishing and Maps


Real time dashboards with live performance and status information


Private and public dashboards: e.g. screens for network operations centers or maps with at-a-glance information for other employees


Interactive map designer with more than 300 different map objects (network icons, status icons, traffic charts, top 10 lists, etc.)
 
High Performance Design and High Security Standards


PRTG supports monitoring from 1 up to 20,000 sensors per installation (max. number of sensors under optimal conditions)


Paessler's proprietary database system is highly optimized for monitoring data (data is accessible through API)

Much faster than SQL servers with less CPU usage


Powerful enough to store years of data for thousands of sensors

Low system requirements: Even a Netbook can monitor 1,500 sensors


Multiple Probes allow to distribute high loads


Multi site monitoring secured by SSL encryption for probe and cluster connections


SSL secured web server (HTTPS) for Web, Windows, iOS, and Android GUI


Multiple User accounts with shared and private sensors as well as rights management
Support for Customization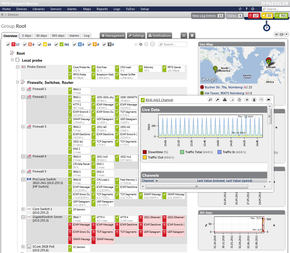 Customizable Web interfaces (Reports and web interface can be "branded")


Custom Sensors (EXE, CMD, Powershell, etc.)


Custom Notifications


Custom Device Templates


Import of MIB files


PRTG RESTful API allows to create/edit/delete monitoring objects and to access monitoring data
 
Easy to Understand - Multi Language Interface
PRTG comes in different languages: English, German, Spanish, French, Portuguese, Dutch, Czech, Japanese, and Simplified Chinese. You can easily switch between these languages, even after the installation.