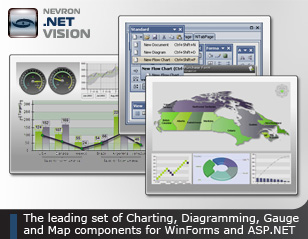 Nevron .NET Vision is the leading suite of WinForms and ASP.NET components that help you create enterprise grade digital dashboards, scorecards, diagrams, maps, MMI interfaces and much more. The carefully designed object model and presentation quality make the .NET Vision suite indispensable for any Business Intelligence, Scientific, Presentation, Financial or Statistical data visualization project.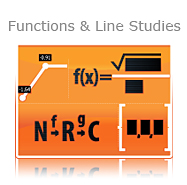 Nevron Chart for .NET has been designed from the ground up to be extensible, efficient and feature rich.This allows it to wrap a vast amount of features in an intuitive and straightforward programming model. The component can display virtually any 2D or 3D chart including: Bar, Line, Step Line, Area, Pie, Point, Bubble, Stock, Floating Bar, Radar, Polar, High Low, Mesh Surface, Grid Surface, Shape, Smooth Line, Float Bar, Venn and Error with many variations (like Scatter XY and XYZ Line, Stacked Bars etc.).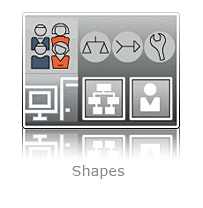 Nevron Diagram for .NET - the smart way to extend your WinForms and ASP.NET applications with interactive displays of graphs, flowcharts, networks, maps, UML and general purpose diagrams. It is a complete diagramming solution, packed with many interactivity features, shapes, automatic layouts, stunning visual effects and comes equipped with ready to use controls to help you boost your application development. Carefully crafted to meet different requirements and specific business needs, it provides unmatched extensibility options, which will help you to integrate the solution better into the context of your particular project.
Nevron User Interface for .NET is the only suite on the market with such remarkable render quality and speed. Explore a rich and powerful docking library, professional and extensible command bars and unique features like skinnable forms, rich-text labels, modern fill effects (glass, gel), designed to bring to your .NET applications the latest GUI standards and technologies.
The suite introduces lots of modern custom controls such as MS Outlook 2003 Navigation Pane, Windows XP Explorer Bar and a complete set of extended Windows Forms controls, making it easy to create a distinguished, stylish and modern end-user presentation layer.
Nevron.NET是領先 WinForms 和 ASP.NET 套件,可創建企業級數位儀錶板、 記分卡、 圖、 地圖、 MMI 介面和更多。精心設計的物件模型無與倫比的品質,讓.NET是任何商業智慧、科學、演示文稿、 財經或統計資料視覺化專案不可或缺的條件。
Nevron Chart for .NET被設計從地面擴展、 高效和功能齊全。這允許它直觀和簡單的程式設計模型中換了大量的功能。該元件幾乎可以顯示任何 2D 或 3D 圖表包括: 欄、 線、 步線、 面積、 圓形圖、 點、 泡沫、 股票、 浮動工具列、 雷達、 極、 高低、 網格表面、 網格表面、 形狀、 平滑線、有變化的錯誤 (如 XY 散點圖和 XYZ 線的許多變化堆積橫條圖等等。)。
Nevron Diagram for .NET-用聰明方法擴展 WinForms 和 ASP .NET互動式顯示圖、 流程圖、 網路、 地圖、 UML 和一般用途的圖示的網路應用。它是一個完整的圖表製作解決方案,擠滿了很多的交互功能、 形狀、 自動佈局,令人驚歎的視覺效果,並設有與已準備好説明你提高您的應用程式開發中使用控制項。它精心打造,以滿足不同的要求和特定的業務需求,提供了無與倫比的可擴展性選項,這將説明您更好地融入解決方案的特定專案的上下文。
Nevron User Interface for .NET是唯一套件具有這種顯著的市場上呈現的品質和速度。探索豐富和強大的圖書、 專業和可擴展的命令列和獨特的功能,如:豐富文本標籤、 現代填充效果 (如玻璃、 凝膠),由您設計帶領.NET 應用程式最新的圖形化使用者介面的標準和技術。