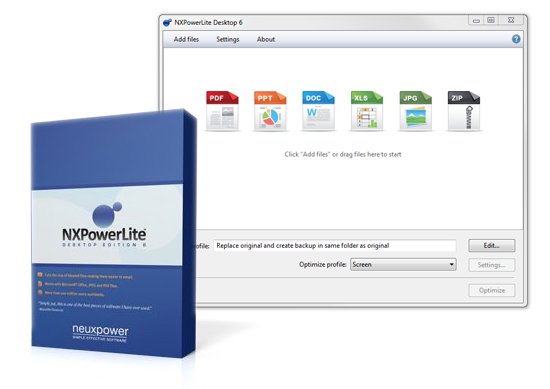 NXPowerLite將壓縮PDF,Microsoft Office和JPEG文件的簡單而有效的,使它們很容易作為附件的郵件。在不壓縮的文件上特別有效。

NXPowerLite will compress PDF, Microsoft Office and JPEG files simply and effectively, making them easy to email as attachments. It is especially effective on files that don't zip well.
 
Optimized files stay in the same format - a PDF remains a PDF. It will look and feel identical to the original, just much smaller.

Optimize or Compress?
NXPowerLite now does both, so when you send your email it will try to optimize and compress and apply whichever is the most effective technique at reducing file size - in some cases both.

Reduce files - automatically
NXPowerLite integrates with email to shrink your attachments as they are sent.

You can also selectively reduce files within your Office applications, or use the 'NXPowerLite' menu to quickly optimize files directly from Windows Explorer.

File reduction covered
Reducing files has never been easier. Just select your files and click to optimize - no complicated settings, simply smaller files in an instant.

Languages
English
(languages below will be added shortly in version 6.0.2)

Chinese (simplified), Chinese (traditional), Dutch, French, German, Italian, Japanese, Korean, Portuguese (Brazil), Portuguese (Portugal), Russian, Spanish, Polish, Turkish & Arabic.
 
System requirements
Windows XP SP3 and above

NXPowerLite integrates with the following applications (Versions 2000 - 2013)* **:


Microsoft PowerPoint*


Microsoft Word*


Microsoft Excel*

NXPowerLite can automatically optimize email attachments in the following email clients* **:


Microsoft Outlook (2000 - 2013)* **


Lotus Notes (6.0-8.5)


Outlook Express*


Windows Mail (6.0+)*

* Integration is not currently supported in 64-bit versions of email clients and applications

** Integration with Office 2000 and Office XP may continue to work, but these versions are no longer actively supported
 
File Types supported

PDF Documents

Microsoft PowerPoint presentations
(PowerPoint 97-2013)

Microsoft Word documents
(Word 97-2013)

Microsoft Excel spreadsheets
(Excel 97-2013)

JPEG images