幾乎任何涉及計算結果的工作流程,都能用 Mathematica 來實現—從建立對沖基金交易網站、出版互動式工程教科書,到開發嵌入圖像識別演算法,甚至微積分教學,它無所不能。
Mathematica 作為計算領域的終極應用軟體而享譽世界。但它的能力遠不僅限於此,它是唯一一個將計算與完整工作流程完全融合的開發平臺。從一個最初的創意出發,到最終個人或企業解決方案的部署,從始至終,乃至中間的每一環節,都可以由它來實現。

What Is Mathematica?
Almost any workflow involves computing results, and that's what Mathematica does—from building a hedge-fund trading website or publishing interactive engineering textbooks, to developing embedded image-recognition algorithms or teaching calculus.
Mathematica is renowned as the world's ultimate application for computations. But it's much more—it's the only development platform fully integrating computation into complete workflows, moving you seamlessly from initial ideas all the way to deployed individual or enterprise solutions.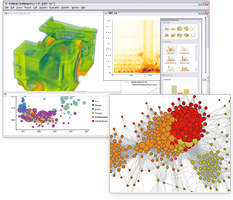 Mathematica Features
Compute
Numerics of any precision, symbolics, or visualization—Mathematica is the ultimate computational tool, with systemwide technology to ensure reliability, ease of use, and performance. Use Mathematica computation directly, as the engine in an infrastructure, or integrated into a standalone application.

Develop
Develop tools, applications, documents, or infrastructure components using Mathematica's seamless workflow, unique symbolic language, and advanced code editing environment, achieving fast turnaround on small projects and record times on large systems.

Deploy
Whether your deliverables are interactive documents, presentations, applications, or enterprise systems, Mathematica can deploy your results in a wide range of formats locally or across a network. With many ways to connect to and work with external systems, Mathematica is designed to maximize your productivity.