MODDE 9新功能
設計空間估計和驗證工具
引入一種新方法設計空間估計 (DSE) 和驗證 MODDE 9 需要履行的品質目標的設計 (QbD) 范式的飛躍。基於蒙特卡羅類比,MODDE 9 迅速估計的可操作性切實滿足所需的回應設定檔的安全區域。互動式螢幕介面提供了一次全面的搜尋結果,並使對飛調整的回應的可取性的和因數範圍。
新的輪廓、 回應面和甜蜜點繪製圖形
引入新優秀的演示文稿圖形的輪廓和表面的情節。套件還可以定制您特定的演示文稿的需要。
分析嚮導
互動式分析嚮導指導您從原始資料分析到最終模型診斷和解釋。
在同一調查中的每個回應單個模型
這是可能與以前的 MODDE 版本,但我們說得更簡單、 直觀的設置為每個回應的獨特模式。優點是更好的預測和回應曲面的更可靠解釋,他們將會基於每個回應的最正確模型。

High quality, efficiency and consistency are defining characteristics of a successful organization. Design of experiments is the most effective methodology to achieve these objectives.

News in MODDE 9.1
New plot visualizing probability of failure
Classical contour and sweet spot plots are point estimate predictions with no estimation of the probability in fulfilling the specification.

The new Probability Contour Plot displays the estimated probability of failure, at the specified risk level. This Design Space region, where all specifications are fulfilled, is displayed with a probability estimate.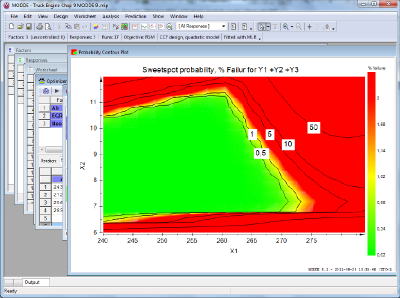 Some of the New Features in MODDE 9
Tools for Design Space estimation and validation
Introducing a novel approach for Design Space estimation (DSE) and validation MODDE 9 takes a quantum leap towards fulfilling the objective of the Quality by Design (QbD) paradigm. Based on Monte Carlo simulation, MODDE 9 rapidly estimates a safe region of operability in which the desired response profile is realistically met. The interactive DSE interface provides a comprehensive overview of the search results and enables on-the-fly adjustments of response desirability's and factor ranges.

New Contour, Response Surface, and Sweet Spot plot graphics
New excellent presentation graphics for contour and surface plots is introduced. Can be customized to suite your specific presentation needs.

Analysis wizard
The interactive Analysis Wizard guides you from raw data analysis to final model diagnostics and interpretation.

Individual models for each response in the same investigation
This was possible with previous MODDE versions but we have made it simpler and intuitive to set up unique models for each response. The advantage is better predictions and more reliable interpretation of the response surfaces as they will be based on the most correct models for each response.