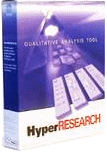 HyperRESEARCH™ is an easy to use qualitative data analysis software package enabling you to code and retrieve, build theories, and conduct analyses of your data. Now with advanced multimedia capabilities, HyperRESEARCH allows you to work with text, graphics, audio, and video sources — making it an invaluable research analysis tool.
HyperRESEARCH is a solid code-and-retrieve data analysis program, with additional theory building features provided by the Hypothesis Tester.
HyperRESEARCH has been in use by researchers in the social sciences and other fields since it was first introduced in 1991. The latest version incorporates features and interface design decisions inspired by years of feedback from our customers and reviewers.
■ Easy, fast coding of any type of source, including text, audio, video, and image files.
■ Unique case-base approach presents your data the way you collected it.
■ Powerful analysis tools and easy integration of cases from multiple study files