SolarWinds is adding Hyper9's next-generation virtualization management products to its growing IT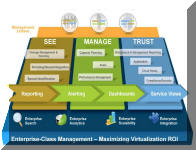 management product portfolio. Hyper9's easy to use, powerful offering is now available for a fraction of the cost of current virtualization management suites, making it one of the most affordable and comprehensive offerings in the market.
 
Hyper9 believes the only way to simplify IT management is to start from the ground up with a unified management approach that understands virtualization's complex & dynamic interactions and relationships across capacity, performance, configuration, and chargeback – and to architect it for cloud-speed and cloud-scale.
Hyper9 Product Overview
Hyper9's virtualization management solution takes you from the early stages of your virtualization deployment through business production out to private cloud initiatives and IT-as-a-Service. Hyper9's unified approach to capacity, performance, configuration, and chargeback automation enables organizations to:

Assure Virtualization Health

Alert, monitor, and report on performance & capacity issues

Correlate and troubleshoot problems

Detect and eliminate virtual sprawl

Conquer configuration drift

Optimize Capacity and Performance Across the Virtual Enterprise

Manage virtualized application capacity, performance, and dependencies

Identify, predict, and act on performance, capacity, and storage
bottlenecks in real-time

Optimize VM placement and plan for new purchases

Deploy at enterprise-scale and integrate with enterprise portals and
management systems

Govern and Chargeback IT, Infrastructure, and Cloud Services

Track and showback business unit, department resource usage & costs

Determine costs to run your infrastructure on Amazon EC2 cloud

Model IT services and vApps to ensure SLAs

Automate performance and capacity management for self-service portals

Hyper9 的 統一的方法 的能力、 性能和配置,計費自動化使組織能夠:
確保虛擬化健康

警報測控的性能和容量問題報告

關聯並解決問題

檢測和消除虛擬蔓延

征服配置偏移

優化容量和性能跨 虛擬企業

管理虛擬化應用程式的能力,性能和依賴關係

確定、 預測,並對性能、 容量和即時的存儲瓶頸

在企業級部署和集成管理系統與企業門戶

優化虛擬機器放置和新的採購計畫

管理和計費它、 基礎設施和雲計算服務

跟蹤和 showback 的業務單元、 署資源使用情況及費用

確定在亞馬遜 EC2 雲上運行您的基礎架構的成本

模仿它的服務,以確保服務級別協定 vApps

自動化自助服務門戶網站的性能和容量的管理
H