Grid FX 包含Chart FX 功能,提供即時圖表、數位板和儀錶。和周圍網格的每個區域,您可以添加這些圖形元素。這些元素可以提供Gird的資料或在 Visual Studio 專案中完全不同的資料來源。此外,這些元素回應:如點擊、 深化和主 / 詳細資訊的上下文資訊。視覺效果時,Chart FX 物件自動配置基於網格設置,轉換速度更快的集成和更少的力氣同步網格的視覺效果的圖表和圖形的其他元素。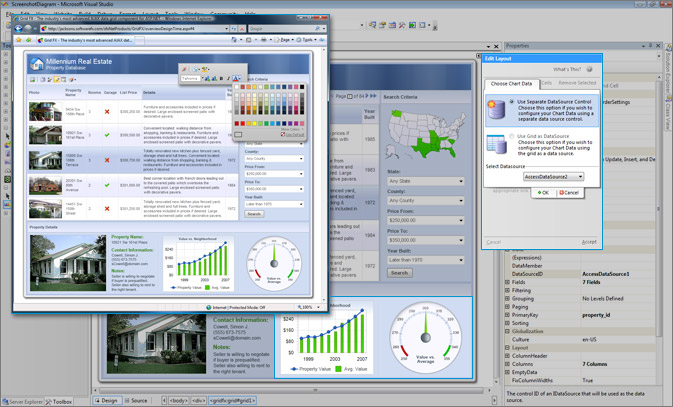 Enterprise-quality grid solution for next-generation web applications.
Grid FX is perhaps the most exciting product release in Software FX's history. It combines all of our product and technology innovation to provide developers with a truly unique and highly integrated data visualization platform to display graphical and tabular data in enterprise applications.
Design-Time Experience
Drag and Drop Editing
Move, split and stack columns by drag and drop within the Layout Editor on the Visual Studio 2005/2008 design surface.
Smart Tag Wizards
Take advantage of full blown context sensitive wizards where most of the functionality is readily available in a graphical way rather than a simple list of properties.
In-Place Template Editing
Format the display of content through the WYSIWYG template layout of a given area without hiding the grid from view.
Enhanced Property Grid
Selecting an item or area of the grid highlights the relevant section of the Property Grid and vice-versa.
Integration with Visual Studio 2005/2008
Grid FX takes advantage of the Visual Studio 2005/2008 extensibility model to offer a design-time experience that significantly decreases development time and the learning curve over traditional grid controls.
End-User Experience
FloatingBar
The FloatingBar provides end-users with per item features such as data copying, grouping, sorting & filtering, hide or show columns, plus font selection, size, style & color.
Toolbar
The Toolbar provides options for the grid as a whole such as palette selection, adding a new item or data, on/off of highlighting or copying the data.
Data Copy
End-users may copy data from the entire grid, a specific item or column through the Toolbar and FloatingBar.
 
Innovative Functionality
Grid FX introduces new features never before seen in a grid control, or any other Visual Studio control for that matter. Grid FX also ships Chart FX products in-the-box, offering immediate charts, digital panels, and gauges.
 
Integrated Chart FX Technology
Grid FX includes Chart FX capabilities right in-the-box, offering immediate charts, digital panels and gauges. You can add these graphical elements in and around every area of the grid. These elements can feed off of the grid's data or a completely separate data source in your Visual Studio project. In addition, these elements respond to contextual information such as clicks, drilldowns and master-detail. When it comes to visuals, the Chart FX objects are automatically configured based on grid settings which translates to faster integration and less effort synchronizing charts and other graphical elements with the grid's visuals.