GeoStudio 是岩土工程和地質環境建模,,足以處理您的所有建模需求的產品套件。

GeoStudio Suite包含八種產品:
•邊坡穩定分析
•地下水滲流滲分析
•壓力與應變形分析
•動態地震分析
•地熱分析
•污染物分析
•空氣流動分析
•非飽和滲流區與地下水動態分析
GeoStudio is a product suite for geotechnical and geo-environmental modeling, broad enough to handle all your modeling needs. Product licenses can be purchased individually or in single-user bundles.
GeoStudio 2012
The GeoStudio suite includes eight products:
SLOPE/W Basic
The slope stability analysis features and capabilities in GeoStudio Basic are more than adequate for conventional analysis of most natural slopes and man-made cut slopes that may be encountered in routine engineering practice. The 10-region and 10-material limit in GeoStudio Basic

is more than sufficient to describe the geometry and stratigraphy of common slope stability problems.
Methods that can be used to compute safety factors include the Ordinary, the Bishop Simplified, the Janbu Simplified, the Spencer and the Morgenstern-Price method. As well, the advanced General Limit Equilibrium (GLE) method is available, which is sometimes useful for helping with interpreting the results of the various methods.
Reinforcement can be simulated in a simplistic way with the use of concentrated line loads. This is an adequate and acceptable approach for determining the forces the reinforcement needs to provide to achieve a design factor of safety against the possible slip of the retained soil wedge. Once the required force is known, the details of the reinforcement can be selected and designed independent of the stability analysis.

SEEP/W Basic
The SEEP/W Basic Edition can be used for the analysis of confined and unconfined steady-state seepage problems. The features available are more than adequate for the analysis of classical problems such as confined seepage flow below a structure with a cutoff and unconfined flow through an earth embankment.
More data points can be used to describe the conductivity function, but a two-point approximation is adequate for most practical steady-state seepage problems where there is a significant component of lateral flow as through an embankment, for example.
The SEEP/W Basic computed seepage results can be used directly in a SLOPE/W Basic slope stability analysis, if a piezometric line is not adequate to describe the pore-pressure conditions of a particular problem.

SIGMA/W Basic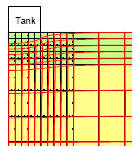 SIGMA/W Basic is particularly useful for estimating the immediate or elastic settlement of multilayered systems. A typical case is the immediate settlement of a round fluid storage tank as illustrated here.
SIGMA/W Basic can also be used to perform saturated consolidation analyses. Consolidation

analyses of a multilayered system are nearly impossible to do with hand-calculations even if it is a one-dimensional analysis. Such 1-D analyses can be done with relative ease with SIGMA/W Basic.
The full-featured edition of SIGMA/W is required for non-linear deformation analyses and stage (time) dependent boundary conditions.

QUAKE/W Basic
QUAKE/W Basic is restricted to linear-elastic material properties which limits its use in actual field problems. Using only linear-elastic material properties tends to over estimate the dynamic response of earth structures to earthquake shaking. This can lead to unrealistic motions and excessive dynamic stresses.
Dynamic linear-elastic analyses however are useful for investigating and demonstrating how QUAKE/W analyses are performed, what material properties are required and how the results can be visualized. In addition, QUAKE/W Basic is useful for demonstrating how the QUAKE/W results can be used in SLOPE/W to do a Newmark-type permanent deformation analysis and for determining how the factor of safety varies during an earthquake.

TEMP/W Basic
TEMP/W Basic is intended primarily for the analysis of ground freezing and thawing problems with limited geometric complexity and with constant thermal boundary conditions.
CTRAN/W Basic
CTRAN/W uses the flow velocities from a steady state SEEP/W analysis to model the migration of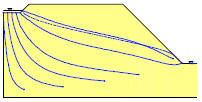 contaminants. So, the CTRAN/W Basic limitations are primarily the limitations inherent in SEEP/W Basic.
CTRAN/W Basic is particularity useful for tracking the paths of imaginary contaminant particles in time and space. The particles can be tracked forward from a source to a discharge point or backward from a discharge point to the source. Travel times and distances are computed for each particle.
In addition, CTRAN/W Basic is a useful tool for investigating pure dispersion and advection-dispersion problems, particularly one-dimensional problems.
AIR/W Basic
AIR/W is for analyzing air flow through soil. The primary intent is to examine how air flow and air pressure affect water flow and pressure. This makes it possible to look at the true matric suction term (ua–uw).
AIR/W Basic is limited to steady-state conditions, but is powerful enough to include modeling a vapor extraction well under long term pumping conditions, for example. You could specify atmospheric pressure along the ground surface and a vacuum air pressure at the screen of a well. The results would show a drawdown cone of water in the soil, as well as a steady state mass flow rate for the air leaving the well.
VADOSE/W Basic
Using VADOSE/W Basic, you can analyze 1D flux boundary problems such as:

˙Design and performance monitoring of single or multi-layered soil covers over mine and municipal waste facilities
˙Development of climate controlled pore-water pressure distributions on natural or man-made slopes for use in stability analyses
˙Determining infiltration, evaporation and transpiration rates resulting from agriculture, irrigation projects, or natural systems
˙Predicting oxygen or radon gas diffusion and decay through the vadose zone
˙plus many more!
VADOSE/W Basic pore-water pressures can be used in a CTRAN/W Basic contaminant transport analysis.