FastTEST 專業測試系統是一個完整的測試環境,使您能夠:


建設銀行的專案/問題


創建測試、 問卷調查和調查 ;


提供他們通過電腦或紙和筆 ;
 
FastTEST Pro 被旨在滿足需要管理一個或多個特定的位置,例如大學、 學校和政府機構中的安全電腦的測試的組織的需要。測試可以管理在一台電腦,電腦 (網路或獨立) 的數量,或甚至從 USB 快閃磁碟機。
 
測試可以構造的幾種方法,其中包括:


常規測試 — — 固定形式或隨機


基於專案反應理論 (IRT) 的電腦自我調整測試 (CAT)


使用正確的或不正確或選項分支的分支的測試
The FastTEST Professional Testing System is a complete testing environment that allows you to:


build a bank of items/questions


create tests, questionnaires and surveys;


deliver them via computer or paper and pencil;

FastTEST Pro is designed to meet the needs of organizations that need to administer secure computerized tests in one or more specific locations, such as universities, school districts, and governmental agencies. Tests can be administered on one computer, a number of computers (networked or independent), or even from a USB flash drive.

Tests can be constructed with several approaches, including:


Conventional tests—fixed form or randomized


Computerized adaptive tests (CAT) based on item response theory (IRT)


Branched tests using correct/incorrect or option branching
 
FastTEST Pro 2.3 is based on the powerful item banking capabilities of the FastTEST 2.0 Test Development System, and includes options for utilizing:


Conventional multiple-choice items


True-false items


Rating scale items


Testlets (such as a reading passage with five questions)


Multiple audios, videos, graphics, and pop-ups


Multi-windowed screens


Screen "hotspots."

With its capability of delivering computerized adaptive tests (CATs) based on item response theory, combined with a host of other advanced features, FastTEST Pro 2.3 is the most sophisticated Windows-based testing system available.
New Features in Version 2.3

Data logging: When building a test session for delivery, there is now an option to have examinee response data immediately logged to a text file, one line per examinee.


Item timing: FastTEST Pro now allows you to implement a maximum time for each item.


Score free-response items: FastTEST Pro now allows you to immediately score free-response items by assigning score values (e.g., 1) to a list of responses that you create. Item scores can be different for each correct answer that you specify.


Special items report: The Special Items Report is designed for a proctor to view an examinee's responses to selected responses to selected items in a test following its completion.


Score conversion module: The Score Conversion Module allows you to take any score from any module prior to it in a Test Session and convert via percentiles, classifications, or a linear transformation. The converted scores can then be used in Custom Reports.


Data extraction from Master Data Files: FastTEST Pro can aggregate your data files from a session into a Master Data File for any number of testing stations and prepare the data that you select for analysis.


Module timing: Timing can now be implemented on specific modules in a test session and turned off for other modules.


Continuous item numbering: If a test session contains more than one module with items, the numbering sequence displayed to candidates can now be linked to be continuous.


Test Administration Options:In addition to selecting a Test Session for each examinee, you can now administer tests in Session Mode and Continuous Mode.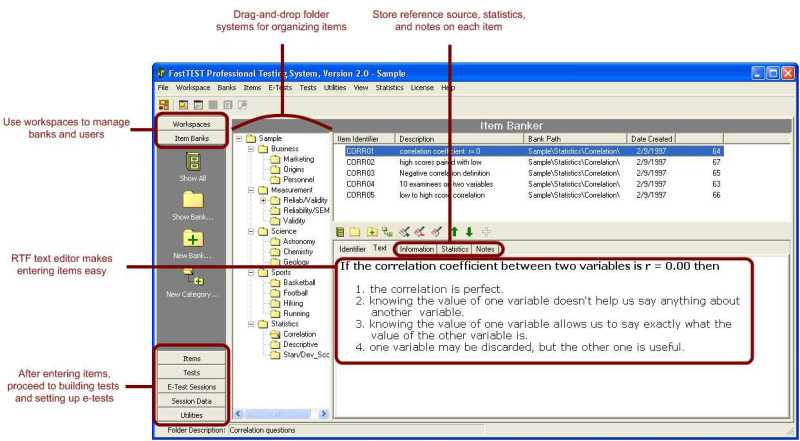 同公司產品: