EasyFit :: Distribution Fitting Made Easy

EasyFit allows to automatically or manually fit a large number of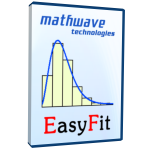 distributions to your data and select the best model in seconds. It can be used as a stand-alone application or with Microsoft Excel, enabling you to solve a wide range of business problems with only a basic knowledge of statistics.
 

Benefits of EasyFit:
*save time: reduce your analysis times by 70-95% over manual methods
*save money: prevent analysis errors and make better business decisions
*ensure the high quality of your projects
*get started fast: EasyFit is extremely easy to learn & use
 

Who Should Use EasyFit?
EasyFit is successfully used by business analysts, engineers, researchers and scientists across a wide range of industries: risk analysis, actuarial science, economics, market research, reliability engineering, hydrology, forestry, mining, medicine, image processing, and many other fields dealing with random data.