本公司為Dundas系列軟體在台灣唯一正式授權代理銷售的廠商,為保障您的權益;請勿向軟體來路不明的廠商購買或向未經正式授權代理的廠商購買。
Dundas Dashboard

Dundas 是一個基於 web 的平臺,使開發的自訂的、 互動式的儀表板。它作為一個中央的 BI 門戶為您的業務,其中使用者可以視覺化和分析資料從整個組織。
Dundas Dashboard is a web-based platform that enables development of custom, interactive dashboards. It acts as a central BI portal for your business, where users can visualize and analyze data from across the organization.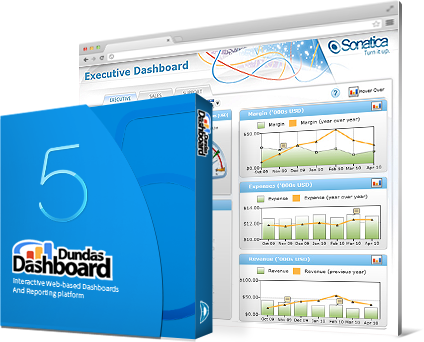 Communicate More Effectively
You know that numbers don't always tell the full story; sometimes an explanation is needed. Dundas Dashboard lets you post comments, ask questions, and respond to inquiries directly on the data, so that important facts don't slip through the cracks. Our notification service sends an email when comments or replies are posted, which keeps you in the loop.
 
Data Analytics for Everyone
With the suite of analytical tools that Dundas Dashboard offers, you'll be able to create reports at the drop of a hat and receive up-to-the-minute analysis of all areas of your business. Our interactive OLAP browser lets users define their own reports on-the-fly by dragging and dropping metrics, dimensions and filters onto a grid or chart.
 
Stay Connected with Dundas Mobile Technology
Our dashboards are based on modern HTML5 web technology, which means they will work on your mobile devices without any installation headaches – just open the dashboard in your browser and you're done!
 
The Most Flexible Dashboard Platform Ever Designed
Our drag-and-drop designer is so flexible that you can take almost any artist concept and replicate it exactly in Dundas Dashboard. Our unique and powerful C#-based scripting engine allows you to define your own interactions and behaviors, so you can create a user experience that meets even the most custom requirements.
 
Visualize Your Data Your Way
Dundas Dashboard comes with more than 50 powerful data visualization controls including interactive charts, gauges, maps, scorecards and more. This ensures that you always have the right data visualization for the information you want to display, while adding variety and interest to your dashboard designs.
 
Connect to Any Data Source
Dundas Dashboard takes data from hundreds of data sources across the organization – databases and spreadsheets, website analytics and CRM – making it accessible from a single, convenient web portal. By connecting directly to your live data sources, your dashboards will always show the latest data, as soon as it becomes available.
Easy, Hassle-Free Integration
Our web-based dashboards can be embedded into your company website, intranet, or SharePoint portal. With integrated support for Windows authentication as well as extensible security APIs, Dundas Dashboard is a great choice for secure corporate environments.

Self-Serve Data Access
Our dashboard viewer allows users to quickly access the data they need without waiting for IT to generate a report. Drag and drop metrics into a mashup to create your own dashboard, and save the results for future reference. You'll also be able to share your mashup with others and export the results to Excel for additional analysis.
 
Dundas Dashboard Version 5.0 released
This release features support for big data sources. By putting big data in front of business users, Dundas Dashboard helps organizations receive high ROI from their data investments. Version 5.0 also adds several industry-first improvements, like advanced usage tracking, an interactive HTML5 mobile interface, wide support for MapReduce technologies, and more.