Concept Star是為 Windows 提供最實用的解釋結構建模 (ISM)軟體。它的設計基於多年的行政決策和組織問題的解決方面的實際諮詢經驗。
Concept Star是便於使用直觀的人類介面和自動視覺顯示的關係模型。這使得更易於使用者識別的路徑或執行緒的思想形成的地圖中,以便了解情況和決策的想法。
隨著所有功能強大的工具,一些訓練是Concept Star最有效地利用所必需的。Concept Star專業 ISM 軟體和培訓一攬子方案是唯一 ISM 套裝軟體可用任何地方,包括一本的書 (結構化決策與 ISM) ,提供深入的培訓,使用有效的 ISM 過程中,此外軟體使用者手冊。這將允許此包使用的任何人,而不需要以前知識的領域或昂貴的專業培訓。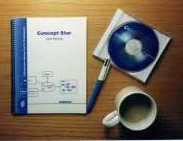 Concept Star is the most practical Interpretive Structural Modeling (ISM) software available for Windows. It's design is based on many years of practical consulting experience in the area of executive decision making and organizational problem solving. Concept Star is an invaluable tool for your day to day understanding of complex issues.

Concept Star is easy to use due to its intuitive human interface and automatic visual display of the relationship model. This makes it easier for users to identify the paths or threads of thought formed by the ideas in the map in order to facilitate understanding of the situation and decision-making.

Concept Star can be used either as a personal desk top tool or it can be used by consulting professionals who wish to use the method to help their clients. Organizations pay thousands of dollars a day to consultants who offer ISM. This powerful tool can be yours to obtain competitive advantage for your personal career and for helping your organization in planning and problem solving.

As with all powerful tools, some training is required in order to make most effective use of Concept Star. Concept Star Professional ISM Software and Training Package is the only ISM package available anywhere that includes a book (Structured Decision Making with ISM) to provide in-depth training on effective use of the ISM process, in addition to the software user manual. This allows this package to be used by anyone, without the need for previous knowledge of the field or expensive professional training.

Concept star is designed for Windows Platform and supports Windows XP, Vista and Windows 7 (32 bit only).
For information on how ISM software is used in general, download the Concept Star 2.0 software manual.