Chart FX Gauges是一套.NET平臺下的儀錶盤元件,通過該控制項軟體發展者可快速高效地將儀錶整合進他們的WinForm應用程式和web應用程式。通過Chart FX系列中的儀錶,軟體發展者可輕易的創建數位儀錶盤,其高效性,連貫性和可靠性可與其他Software FX產品相媲美。
Chart FX Gauges引入了圖形的屬性清單,提供豐富的、直觀的設計時體驗。在屬性清單中,而無需模態對話方塊或單獨的設計師,可以以可視的方式,配置表的所有元素。
Chart FX Gauges delivers a set of .NET components that allow developers to quickly and effectively integrate gauges into their client-server and web-based applications. With the addition of Gauges to the Chart FX family of products, developers can easily create digital dashboards with the productivity, consistency and reliability they've come to appreciate from other Software FX products.
Design-Time Experience
Chart FX Gauges introduces a graphical properties list providing a rich and intuitive design-time experience. All gauge elements can be configured visually, in the properties list, without the need for modal dialogs or separate designers.
This powerful feature allows you to add rich and attractive gauges to your form in minutes by manipulating:
Look & Feel
Access any of the elements which comprise a gauge, including borders, needles, caps and other visual elements.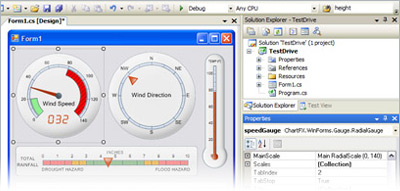 Layout
Set the position elements in the gauge relative to the border of the control or by using a graphical anchor point.
Palettes & Colors
Set all the gauge elements to a harmonious color palette, in design-time, without having to run the application.
Highly-Detailed Graphics
Each individual element that goes into creating a gauge is meticulously crafted by professional graphic artists. These elements combine to create a photorealistic gauge complete with shadows, lighting and glare effects.
Optimized for Real-Time
Chart FX Gauges harnesses the power of AJAX to enable powerful real-time capabilites in both Windows and Web Forms applications