Chart FX Gauges for Java引入了一個圖形的屬性清單,提供了豐富、 直觀的設計時體驗。Chart FX Gauges for Java可以直觀地配置,在屬性清單中,而不需要侵入模態對話方塊或單獨的圖形嚮導。
外觀
訪問元素,包括衡量,包括邊框、針、帽和其他可視元素。
佈局
在邊框的控制項或使用圖形化的錨點相對於表中設置定位元素。
調色板和顏色
設置為和諧的調色板,在設計時,而不必運行應用程式的計的所有元素。
詳細的高度圖形
每個進入創建表中的單個元素精心製作的專業圖形藝術家。這些元素相結合,創建逼真的規完整的陰影、 照明和眩光效果。
優化的即時
JChart FX Gauges for Java利用 AJAX 權啟用功能強大的即時功能,在您的應用程式。
Feature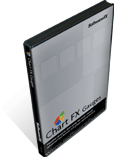 Design-Time Experience
Chart FX Gauges for Java introduces a graphical properties list that provides a rich and intuitive design-time experience. Chart FX Gauges for Java elements can be configured visually, in the properties list, without the need for intrusive modal dialogs or separate graphical wizards.
This powerful feature allows you to add rich and attractive gauges to your pages in minutes by manipulating:
Look & Feel
Access elements which comprise a gauge, including borders, needles, caps and other visual elements.
Layout
Set the position elements in the gauge relative to the border of the control or by using a graphical anchor point.
Palettes & Colors
Set all the gauge elements to a harmonious color palette, in design-time, without having to run the application.
Highly-Detailed Graphics
Each individual element that goes into creating a gauge is meticulously crafted by professional graphic artists. These elements combine to create a photorealistic gauge complete with shadows, lighting and glare effects.
Optimized for Real-Time
Chart FX Gauges for Java harnesses the power of AJAX to enable powerful real-time capabilites in your applications.
 
Radial Gauges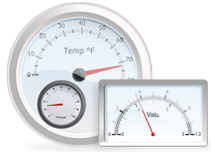 Radial Gauges are the most common and conventional type of gauge. These gauges are normally used to represent a quantifiable process progressing through the possible range displayed on a scale with a circular or semi circular aspect.

Linear Gauges
Linear Gauges are normally used to represent the progress of a process or a specific value within a continuous range and fall into two catagories, horizontal and vertical. Common examples would be a ruler (horizontal) or a thermometer (vertical).
Digital Panel Gauges
Digital Panels are used for both numeric and alphanumeric displays. These panels are commonly prevalent in the world such as watches, registrars, information kiosks, alarm clocks, etc. The most common are 7-segment, 14-segment and LED.