Advanced Technology

BB FlashBack can record high frame rate, high quality movies without affecting PC performance, even on lower powered PCs.
Our users have succeeded in recording large animations that other screen recorders struggled with.
Easy To Use and Always Ready
BB FlashBack lives in your taskbar, system tray or floating above the desktop, so its always available.Click the record button and let the wizard guide you to great recordings, first time.
WebCam Recording
Give your movies the personal touch. Make an appearance with a picture-in-picture webcam recording. One click, and BB FlashBack records from the webcam while it records the screen.
Record Vista
Capture Vista's 'Aero' effects at a high frame rate without a high-spec PC. The BB FlashBack screen recorder is fully Vista compatible and can record all of its graphics modes.
Sound
Record a commentary at the same time as the screen. It's easy to record the microphone, PC speakers or other sources.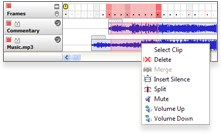 Pro-Level Sound Editing
Edit multiple audio tracks side by side with video. Designed to make synchronizing sound with images as easy as possible. (Pro edition only)
Playback Controls
Flash and EXE format exports get full playback controls, in a number of styles.

Show The Details
The audience won't miss a thing. The easy to use zoom & pan feature lets you focus on any part of the movie. You can also crop the movie to only show a window or region. (Pro edition only)
 
Expr
Std
Pro
Recording
Record screen, microphone, PC sounds and webcam
Record the full screen, a window or region
Record and display keystrokes
Record continuously and limit the final file size
Choice of recording modes to suit older or newer PCs
Records Vista's Aero mode
Sharing
Upload to Youtube, Blip.tv, Revver
Upload to generic http, ftp and local network file servers
Export to Flash - SWF and FLV (Flash video)
Export to AVI
Export to Windows Media Video (WMV)
Export to QuickTime (H264)
Export to Standalone EXE
Export to MS Powerpoint
Annotation
Add textboxes
Add sound files or record a new commentary
Add images
Highlight areas of the screen
Add interactive buttons
Add AVI or WMV file as picture-in-picture video
Editing
Frame-by-frame video editing
Multi-track audio editing
Smooth out or re-record cursor movements
Speed up and slow down sections of the movie
Effects
Cursor highlighting
Zoom and Pan
Cropping the movie area