At Aspose you will find that you have a wide variety of feature-rich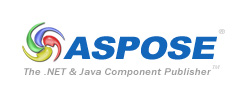 components at your disposal. These components target four different platforms, .NET, Java, MS SQL Reporting Services and JasperReports. With our .NET components, developers can create applications in .NET, which can open, edit, create and save some of the most popular file formats in business. We have on offer an excellent line of data visualization components, as well as, quite a few utility components. The Java components offer a similar kind of file format processing as that offered by the .NET components. Our SSRS Rendering Extensions are a must have for any one looking to generate reports in multiple formats from MS SQL Server Reporting Services. Last but not least, our growing set of JasperReports Exporters are essential for anyone to looking to export their reports from JasperReports to a wide variety of formats.
All components come with extensive documentation featuring numerous demo applications enabling you to get up to speed in no time.