互動式剖學教學軟體加強了人體解剖學、 生理學及相關的課題的研究。使用為最簡單、 最方便的存取權限,改進導航和功能,和其他內容和增強功能,為您提供最全面的解剖資源和先進的課程開發工具,可用線上版本。線上訂閱允許隨時隨地存取權限的使用者名和密碼的安全控制。
非常詳細的圖形、 精度和高級的功能,涉及條件、疾病狀態、程式、治療、手術、測試和更多,超過 3000 插圖、關係圖和照片和 120 多個多媒體視頻。最新的 3D 圖像庫還提供了最好的 3D 解剖圖像。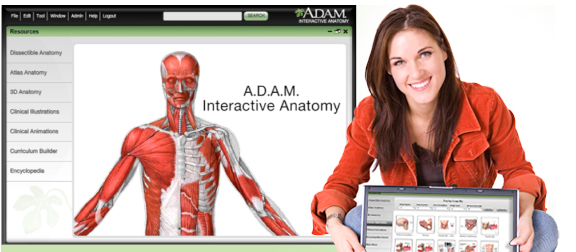 A.D.A.M. Interactive Anatomy dramatically enhances the study of human anatomy, physiology, and related topics. The online version is our best ever, with the easiest, most convenient access, improved navigation and functionality, and additional content and enhancements giving you the most comprehensive anatomy resource and advanced curriculum development tool available online.
Our incredibly detailed graphics, precision accuracy and advanced functionality have been combined with A.D.A.M.'s award-winning Multimedia Encyclopedia with over 3,600 articles covering conditions, disease states, procedures, treatments, surgeries, tests and more, over 3,000 illustrations, diagrams and photos and over 120 multimedia videos. An updated 3D image library also provides the best 3D anatomical images anywhere online.

The database includes point-and-click identification capabilities for over 20,000 anatomical structures and is peer-reviewed by a team of leading anatomists to ensure anatomical accuracy.

View the same structure from different perspectives - With a simple scroll bar, dissect through the human body by peeling away structures, layer-by-layer, in anterior, posterior, lateral, or medial views. You can also open an image in multiple windows simultaneously to compare the same structure in the different views.

Multiple structure identification and manipulation - Simultaneously identify, highlight, display, and extract multiple anatomical structures and physiological systems. This feature makes it possible for you to explore the boundaries of structures and view them in isolation, and then view them in context with the surrounding anatomy.

Customizable transparency box - With the customizable transparency box you can easily move, re-size, and reveal areas of underlying dissectible anatomy in real-time. Use this tool to easily comprehend the spatial relationships between adjacent structures and organs.

A.D.A.M. Interactive Anatomy Curriculum Builder -Curriculum Builder is a great way to integrate instructor text with customized images from AIA to create, organize, and package course materials, virtual laboratory exercises, classroom lecture presentations, and custom communication tools. With Curriculum Builder, instructor's classroom lectures, virtual laboratory exercises and more can be shared with students electronically or posted using your school's learning management system.

Import and export capabilities - You can import third party images and animations, and easily export customized images into PowerPoint® and word processing applications, curricula, tests, and more.

Flexible annotation tools - Annotate illustrations in Dissectible Anatomy, Atlas Anatomy, Clinical Illustrations, or even your own imported images easily with the advanced functionality of AIA Interactive Anatomy online.

Hide and lock viewer controls - Use hide and lock viewer controls to disable structure identification and display only what you want students to see.

Live lecture mode usability - Create dynamic live lecture presentations using the interactive and visual power of AIA online. The software can be used in class, and allows for annotations and modifications on-the-fly.