您好,如有打擾請多包涵:
本公司代購各種專業國外軟體和國外硬體,如有需要歡迎與我們聯繫。

柏際股份有限公司 BockyTech, Inc. www.bockytech.com.tw
TEL:02-2592-3171 FAX:02-2592-3172
E-Mail: sales@bockytech.com.tw
Spyware Doctor 反間碟軟體 / UltraEdit 文書處理編輯程式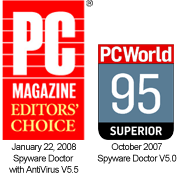 Spyware Doctor has been downloaded over 125 million times with millions more downloads every week. People worldwide use and trust Spyware Doctor to protect their PCs from spyware, adware and other online threats.

Spyware Doctor has consistently been awarded Editors' Choice, by leading PC magazines and testing laboratories around the world, including United States, United Kingdom, Sweden, Germany and Australia. In addition, after leading the market in 2005, Spyware Doctor was awarded the prestigious Best of the Year at the end of 2005 and again in 2006.
Spyware Doctor continues to be awarded the highest honors by many of the world's leading PC publications such as PC World, PC Magazine, PC Pro, PC Plus, PC Authority, PC Utilities, PC Advisor, PC Choice, Microdatorn, Computer Bild and PC Answers Magazine.

UltraEdit is the ideal text, HTML and HEX editor, and an advanced PHP, Perl, Java and JavaScript editor for programmers. An industry-award winner, UltraEdit supports disk-based 64-bit file handling (standard) on 32-bit Windows platforms (Windows 2000 and later).