Stata 15
Stata 是一個完整、 集成的統計包,提供了一切所需的資料分析、管理和圖形。Stata 不是賣的模組,這意味著你得到你需要在一個套裝軟體中的一切。並且你可以選擇永久許可證。每年許可證都可使用的。

Stata 15添加許多新的功能,例如結構方程模型 (SEM)、 對比,分整,商務日曆,為多個歸責、 等高線圖、 自動記憶體管理,導入和匯出的 Excel 檔,和更多的鏈式的方程。
 
Stata is a complete, integrated statistical package that provides everything you need for data analysis, data management, and graphics. Stata is not sold in modules, which means you get everything you need in one package. And, you can choose a perpetual license, with nothing more to buy ever. Annual licenses are also available.

Stata 15adds many new features such as structural equation modeling (SEM), contrasts, ARFIMA, business calendars, chained equations for multiple imputation, contour plots, automatic memory management, importing and exporting of Excel files, and more.
 
Fast, accurate, and easy to use
With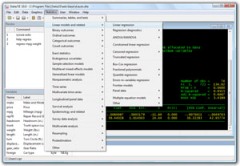 a point-and-click interface, an intuitive command syntax, and online help, Stata is easy to use, fast, and accurate (see certification results and FDA document compliance for details). All analyses can be reproduced and documented for publication and review.
 
Responsive and extensible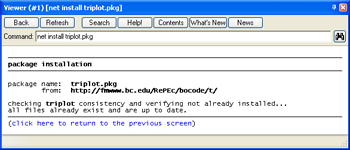 Stata is so programmable that developers and users add new features every day to respond to the growing demands of today's researchers. With Stata's Internet capabilities, new features and official updates can be installed over the Internet with a single click. Many new features and informative articles are published quarterly in the refereed Stata Journal. Another great resource is Statalist, an independent listserver where more than 4,500 Stata users exchange over 1,500 postings and 50 programs each month.
 
Publication-quality graphics

Stata makes it easy to generate publication-quality, distinctly styled graphs, including regression fit graphs, distributional plots, time-series graphs, survival plots, and contour plots. You can write scripts to produce hundreds or thousands of graphs in a reproducible manner and export them to EPS or TIF for publication, to PNG for the web, or to PDF for viewing. Or, with the integrated Graph Editor you click to change anything about your graph or to add titles, notes, lines, arrows, and text.

You can choose between existing graph styles or create your own.
 

Cross-platform compatiblel
Stata will run on Windows, Mac, and Unix computers (including Linux); however, our licenses are not platform specific. You can install your Stata license on any of the supported platforms. Stata datasets, programs, and other data can be shared across platforms without translation.

You can also quickly and easily import datasets from other statistical packages, spreadsheets, and databases.
 

Complete documentation and other publications
Stata comes with 21 volumes of documentation containing more than 9,000 pages of information that include calculation formulas, detailed examples, and references to the literature. The documentation comes in PDF form with every copy of Stata and printed volumes are available either separately or as a set. Our website is a great resource for information about Stata, including answers to frequently asked questions.