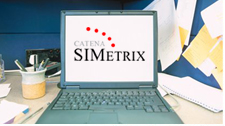 SIMetrix為了專業電子工程師設計了模擬電路的混合模式, 包括大
大增強SPICE模擬器、 圖式編輯器和波形檢視器所結合成的一個程
式,可使用於Windows 和 Linux系統。
SIMetrix is a mixed-mode circuit simulation package designed for professional electronics engineers.

SIMetrix comprises a substantially enhanced SPICE simulator, schematic editor and waveform viewer all seamlessly integrated into one program.
SIMetrix An enhanced SPICE based mixed signal simulation program with integrated schematic entry and waveform viewer. Available for Windows and Linux platforms.
■ SIMetrix AD Plus

This product is aimed at analog design specialists who are involved in PCB level circuit design, and especially for power electronics applications. This product is also suitable for bipolar IC design if the real-time noise feature is not required.

Available on Windows and Linux platforms

■ SIMetrix Micron AD
A full-featured product suitable for CMOS IC designers or other transistor level designers who require real-time noise analysis.

Available on Windows and Linux platforms

■ SIMetrix/SIMPLIS

Designed for the analysis of power electronics systems, this package features the revolutionary SIMPLIS simulator. Otherwise has all features of SIMetrix AD Plus. See SIMetrix/SIMPLIS feature list.

SIMetrix/SIMPLIS is a circuit simulation suite optimized for the design and development of electronic power systems. SIMetrix/SIMPLIS comprises the SIMetrix environment with the revolutionary SIMPLIS simulator developed by Transim Technology Corporation. The native SIMetrix SPICE simulator is also included.

Available on Windows only

■ SIMetrix/SIMPLIS Micron

Top of the range product including SIMPLIS and all CMOS chip design features. This product is for the IC designer who is also involved with power system design.